Jelly Deals: Up to 80% off Capcom classics on PC at Fanatical this week
Get a further 10% off using a code.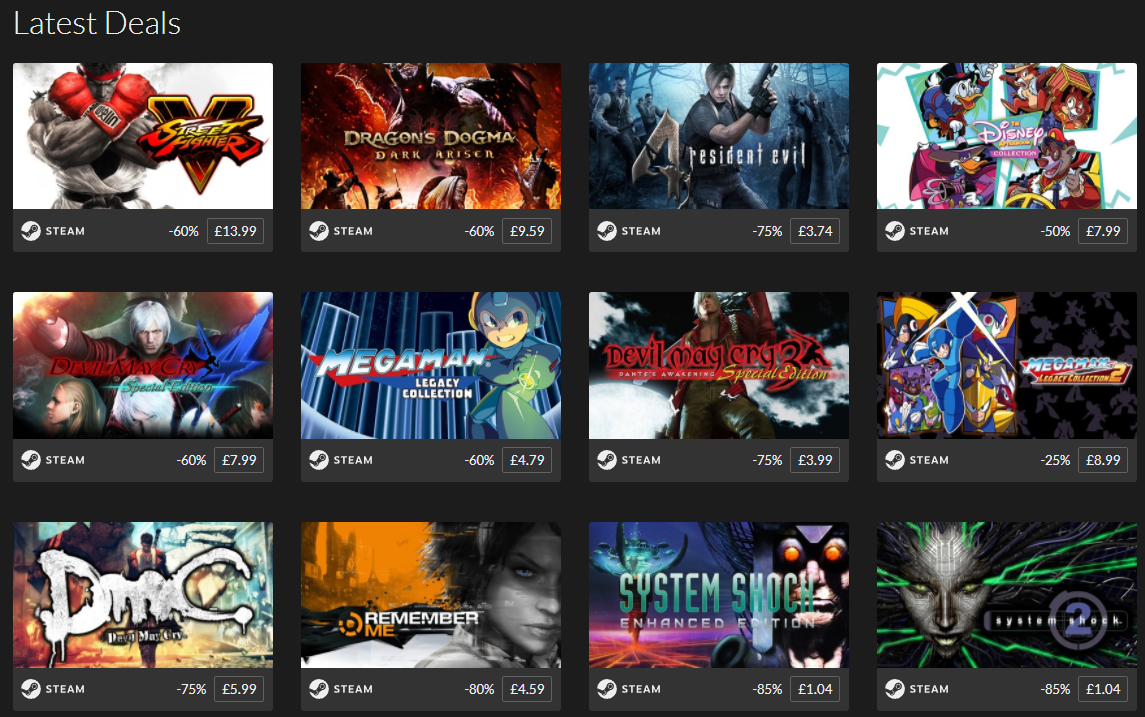 A note from the editor: Jelly Deals is a deals site launched by our parent company, Gamer Network, with a mission to find the best bargains out there. Look out for the Jelly Deals roundup of reduced-price games and kit every Saturday on Eurogamer.
---
In case you missed the memo a fortnight ago, Bundle Stars is no more. Instead, the company has rebranded its digital download online store as Fanatical, complete with a slick new website. To celebrate, the site has been hosting its own 'Launch Sale' range for the last two weeks with new offers being shuffled in occasionally to keep everything fresh.
The current crop of offers features a whole batch of titles from Capcom, encompassing everything from Resident Evil 7 to Mega Man Legacy Collection - though there are a handful of non-Capcom titles worth checking out as well, most notably System Shock Enhanced Edition and System Shock 2. All of these games get an extra 10 per cent off their listed prices when you enter the code FANATICAL10 at checkout.
In addition to the Launch Sale, you can pick up a copy of I Am Bread for £1.29 / $1.69 for the next few hours, as the game is currently listed as the site's 'Star Deal'. If that's your kind of thing.
(With Black Friday 2017 looming over us next week, it's worth pointing out that we'll be keeping up to date with all the latest deals as and when they show up on PC as well as consoles. On these links, you'll find (and can bookmark) our guides to Xbox Black Friday deals, PS4 Black Friday deals, Nintendo Black Friday deals and PC gaming Black Friday deals.)
Here are some of the highlights: prices are shown without the extra 10 per cent off, so be sure to enter FANATICAL10 at checkout to get that:
Dragon's Dogma Dark Arisen for £9.59 / $11.99
Resident Evil 4 for £3.74 / $4.99
Disney Afternoon Collection for £7.99 / $9.99
Mega Man Legacy Collection for £4.79 / $5.99
Mega Man Legacy Collection 2 for £8.99 / $14.99
DmC: Devil May Cry for £5.99 / $7.49
System Shock Enhanced Edition for £1.04/ $1.49
System Shock 2 for £1.04 / $1.49
Resident Evil 7 for £19.99 / $29.99
Bionic Commando ReArmed for £1.29 / $1.99
Strider for £3.59 / $4.49
Dark Void Zero for £0.89 / $1.99
Remember Me for £4.59 / $5.99
DuckTales Remastered for £3.95 / $4.94
Fanatical Launch sale - use code FANATICAL10 for extra 10% off