It looks like the Dark Souls Trilogy collection could finally be coming to Europe
UPDATE: Confirmed!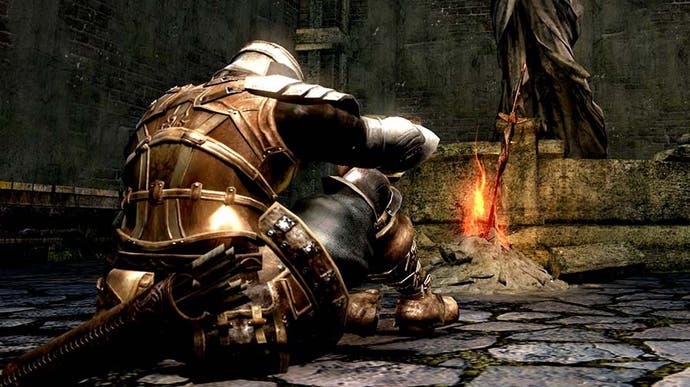 UPDATE 11/1/19: Bandai Namco has confirmed that its Dark Souls Trilogy collection, which arrived in the US last October, will indeed be making its way to Europe soon.
As per the two Amazon listings that first raised suspicions of an imminent European release, the publisher has announced that the Dark Souls Trilogy will be making its way to PlayStation 4 and Xbox One in the region on March 1st, 2019.
---
ORIGINAL STORY 10/1/19: Based on a number of new online retailer listings, Bandai Namco's Dark Souls Trilogy collection could finally be heading to Europe.
The three-game compilation was initially unveiled last August during Gamescom, with an Xbox One and PS4 release scheduled for October 19th 2018. However, despite being announced during the German show, Bandai Namco was quick to clarify that the collection was for US and Asia markets only.
Now, however, (as spotted by Resetera) listings for the Dark Souls Trilogy have appeared on both Amazon Spain and Amazon Germany, each pointing to a European release date of Friday, March 1st 2019 on Xbox One and PlayStation 4 .
The US version of the Dark Souls Trilogy bundled together last year's spruced-up Dark Souls Remastered, Dark Souls 2: Scholar of the First Sin (which introduced some wonderfully judged enhancements to the original game), plus Dark Souls 3: The Fire Fades Edition.
By extension, the collection also includes all released DLC; that's Dark Souls 1's Artorias of the Abyss expansion, Dark Souls 2's excellent DLC offerings - Crown of the Sunken King, Crown of the Old Iron King, and Crown of the Ivory King - and Dark Souls 3's somewhat variable Ashes of Ariandel and The Ringed City. Presumably a European version would include the same.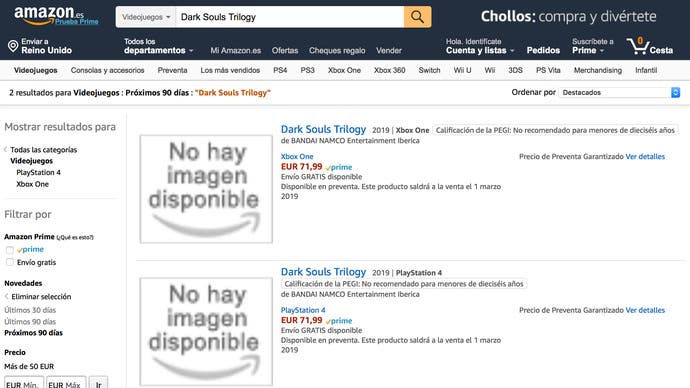 Amazon Spain and Germany both price the Dark Souls Trilogy at around 70 Euros (roughly £63), which, by my cursory calculations at least, make it a cheaper option than buying all three physical discs individually - which would come to around £85, going by Amazon's prices.
Of course, Bandai Namco has yet to confirm the Dark Souls Trilogy's imminent European arrival, but hopefully we'll have a firmer yay or nay soon.