There's a Dark Souls Trilogy collection coming to PS4 and Xbox One
UPDATE: US and Asia only, clarifies Bandai Namco.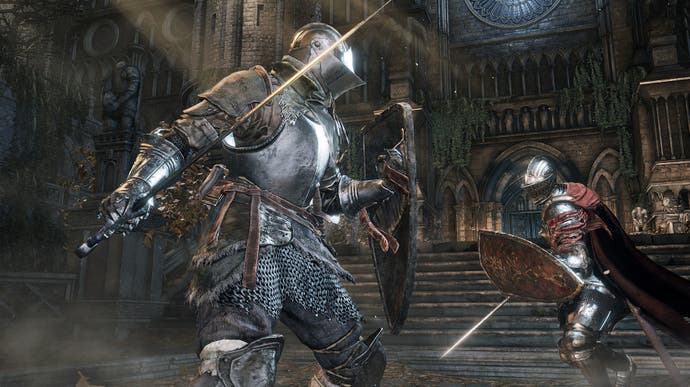 UPDATE 22/8/18: Following its announcement that a complete Dark Souls Trilogy collection would be coming to PS4 and Xbox One on October 19th, Bandai Namco has now clarified that this only applies to the US and Asia markets.
Despite the timing of the Dark Souls Trilogy news, the publisher says it "was not a Gamescom announcement in Europe". For now, the only Dark Souls experience heading to Europe on October 19th will be Dark Souls: Remastered for Nintendo Switch.
---
ORIGINAL STORY 21/8/18: Bandai Namco has unveiled a new collection of all three Dark Souls games, creatively titled the Dark Souls Trilogy, and it's coming to Xbox One and PC on October 19th.
Specifically, the Dark Souls Trilogy bundles together the spruced-up Dark Souls Remastered that released in May, Dark Souls 2: Scholar of the First Sin - which makes some smart but subtle tweaks to the series' much-maligned but still excellent-despite-what-anyone-else-says second outing - plus Dark Souls 3: The Fire Fades Edition.
Better yet, the new collection also includes all DLC released for the series; that's Dark Souls 1's stellar Artorias of the Abyss, Dark Souls 2's excellent DLC offerings - Crown of the Sunken King, Crown of the Old Iron King, and Crown of the Ivory King - and Dark Souls 3's admittedly rather variable expansions, Ashes of Ariandel and The Ringed City.
According to Bandai Namco, the Dark Souls Trilogy will be a physical release, and squeezes all three games into one shiny steelbook case for $79.99 USD (around £62). Regrettably, this western offering is considerably less fancy than the Japanese Dark Souls Trilogy box set that released at the start of the year, featuring an encyclopaedia, art prints, soundtrack CDs, and even a tasteful set of bookends. Admittedly, that version did cost around £330. Of course, October 19th is also the same day that the original Dark Souls arrives on Switch in the form of the console's long-delayed Dark Souls Remastered release. So while Xbox One and PlayStation 4 owners are slowing working their way through From Software's complete fantasy RPG opus, Switch owners get to be thankful that they're finally allowed to play the first game five months after everybody else.