Europe's Dark Souls Trilogy Collector's Edition is pretty swish
But it'll cost you £450.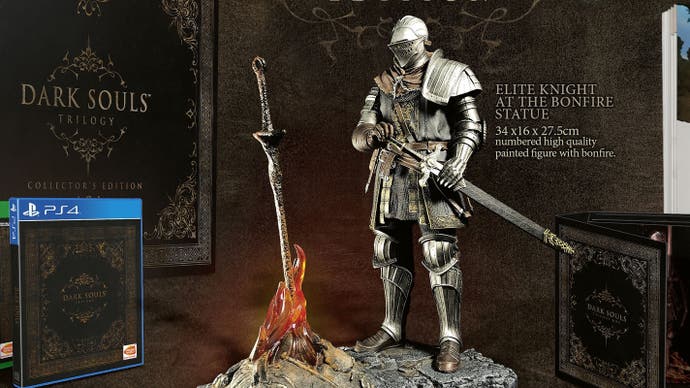 Bandai Namco has unveiled its Collector's Edition for the recently announced European Dark Souls Trilogy, available for PS4, Xbox One, and PC. It's a decently desirable offering for enthusiasts - but it certainly doesn't come cheap.
As you'd expect, the Dark Souls Trilogy Collector's Edition includes all three Dark Souls titles (in their Dark Souls Remastered, Dark Souls II: Scholar of The First Sin, and Dark Souls III: The Fire Fades guises), and each is accompanied by all associated DLC.
There's also a six-disc soundtrack, featuring music from each game, and a 460-page compendium - which includes illustrated maps (with boss and NPC locations), an item encyclopaedia, a bestiary of enemies and bosses, plus a manuscript of all dialogue.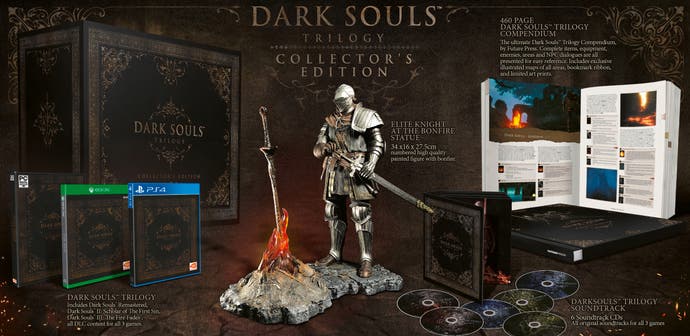 Lastly, and presumably most responsible for the Collector's Edition's £449.99 asking price, is a numbered, hand-painted statue, measuring 34cm in height and titled Elite Knight at the Bonfire. It is, in all fairness, a pretty handsome looking figurine - although I think I still prefer the similarly modelled bookends that came as part of the £330-ish Trilogy Box in Japanese.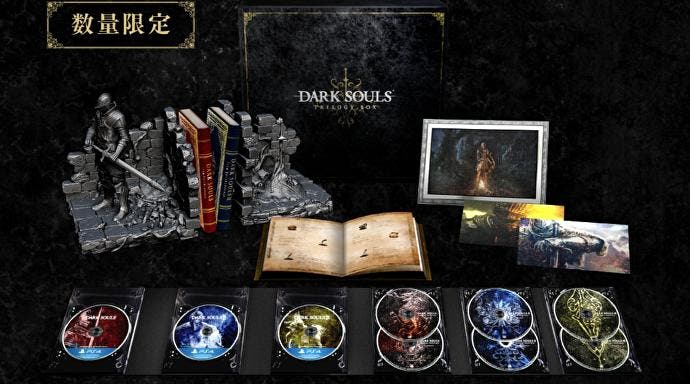 According to Bandai Namco, a total of 2,000 Dark Souls Trilogy Collector's Editions will be available to Xbox One, PS4, and PC players in Europe, and interested parties can pre-order them via the publisher's website. Both the fancy £450 edition and the considerably cheaper standard edition (which includes a digital soundtrack) will be available from May 31st.