id Software responds to Doom 4 art leak
"When we officially show things, fans will be happy."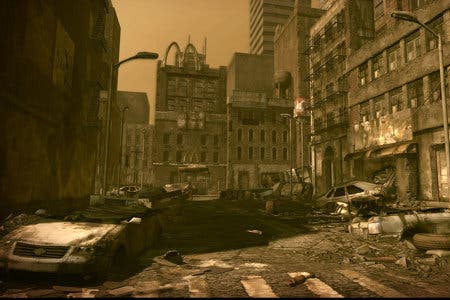 id Software has responded to the Doom 4 art leak. In a nutshell: no denial that they're from Doom 4, but a heavy suggestion they're not indicative of the project now.
The response came from Rage design director Matthew Hooper on Twitter. "Those images have nothing to do with what you're gonna see in Doom 4," he wrote. "When we officially show things, you'll see awesome.
"When we officially show things, fans will be happy."
The Doom 4 images depicted a war-torn cityscape - perhaps post-apocalyptic. There were no apparent depictions of hell. The images fit more closely with the settings of Rage or Fallout.
Hooper said similar things to Eurogamer in April 2011. He revealed how the Doom 4 team was "going in their own direction", and "doing something Doom fans will be happy with".
"It is distinct enough," he added. "It would be dangerous - we don't want to make a re-skinned Doom [with Rage] and then Doom 4 be a re-skinned Rage. That would be bad."
To date, Doom 4 remains a secretive project. Bethesda's threatened reveals, but they've not come off.
We know a team separate to the one that built Rage was formed to make Doom 4 in 2008. We also know that Rage team will now help out on Doom 4.
The expectation is that Bethesda and id Software will blow the lid on Doom 4 at the annual QuakeCon extravaganza, which this year takes place from 2nd to 5th August.