Here's our first look at Winter Soldier, Black Widow and Venom gameplay in Marvel vs. Capcom Infinite
We are Venom.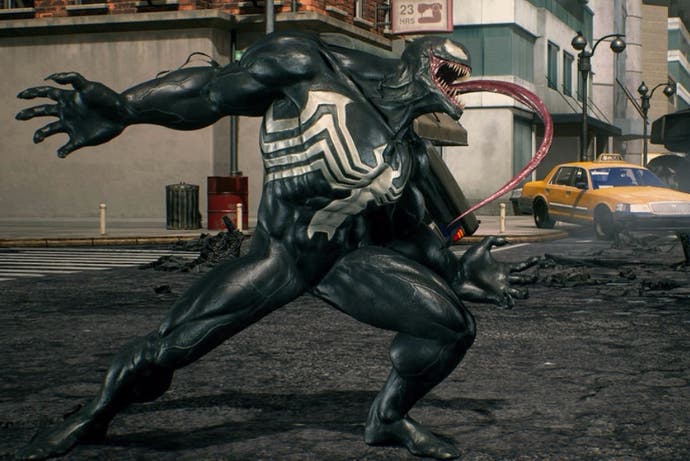 Capcom's released a trailer showing off Marvel vs. Capcom Infinite DLC characters Winter Soldier, Black Widow and Venom for the first time.
The trio come hit the crossover fighting game on 5th December, Capcom said.
The video below shows off each character's level three supers, which are appropriately flashy. Fan-favourite Venom looks the coolest character to me, although his voice acting sounds off.
Here's the official blurb on Winter Soldier:
"Winter Soldier excels at ground combat using special moves that send the opponent flying across the screen and projectiles that bounce off the walls and floor. Bucky can activate Metal Shield, which utilises his cybernetic arm to turn him into an anchor, allowing him to ignore attacks without taking any damage."
Here's Capcom on Black Widow:
"As a deadly spy, Black Widow has tools for every situation. Her unique acrobatic jump can be performed in mid-air and followed up with one of her many tricky projectiles with the press of a button. Natasha also showcases her skills in hand-to-hand combat with her trusty electric batons."
And finally, here's a line on Venom:
"Prepare for the unexpected with Venom's shape-shifting abilities. As a frightening force on the battlefield, Venom can launch himself across all angles of the screen and has no issue manipulating the opponent's options to favour his own."
Marvel vs. Capcom Infinite has six DLC characters as part of its 2017 character pass. They are Black Panther, Black Widow, Monster Hunter, Sigma, Venom, and Winter Soldier. Black Panther, Monster Hunter and Sigma came out on 17th October. Each character is also available for purchase individually.
Meanwhile, there's a free demo weekend for Marvel vs. Capcom Infinite, which runs from 24th November to 27th November exclusively on PS4. All 30 launch characters are available to play.