Our first look at Jedah and Gamora gameplay in Marvel vs. Capcom: Infinite
Darkstalkers fights Guardians of the Galaxy.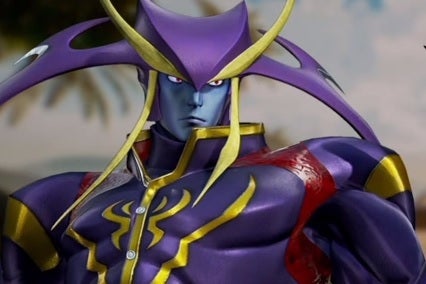 At the Evo fighting game tournament this weekend Capcom hosted an exhibition match for the upcoming Marvel vs. Capcom: Infinite - and during it we got our first look at gameplay for both Jedah and Gamora.
Gamora, from Marvel's Guardians of the Galaxy, uses a combination of sci-fi guns and swords to do damage to her opponent. But it was the reveal of Jedah, who hails from Capcom's much-loved vampire-flavoured fighting game series Darkstalkers, that got the most attention from series fans.
Jedah first appeared in Darkstalkers 3 as the youngest of the three High nobles of Makai - even though he's over 6000 years old. He has a liquid body, which means he can change shape. He also uses his blood to create a rotating buzz saw.
The video, below, shows a Marvel vs. Capcom: Infinite exhibition match starring Capcom's Peter "ComboFiend" Rosas - himself an ex-fighting game tournament player, and current fighting game pro Ryan "FChamp" Ramirez. ComboFiend picks Gamora and then pleases the crowd with a surprise Jedah reveal.
Marvel vs. Capcom: Infinite's character roster (which doesn't include any X-Men characters) leaked back in May, so the Jedah reveal doesn't come as much of a surprise. However, it's nice to see his design and moves in action.