Here's 14 minutes of Dead Rising 4 gameplay
Brains...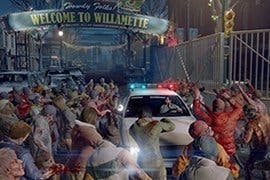 At a Microsoft showcase event at E3, I had a chance to play Capcom Vancouver's Dead Rising 4 on Xbox One and captured the gameplay.
In the video, below, you can see me, as series star Frank West, tear up over 1000 zombies with a multitude of weapons in Willamette, Colorado. I use everything from a flamethrower to a parking meter to carve up those zombies. I give the new Exo Suit a spin, too.
The gameplay also shows off the new selfie mechanic. Here, you can pull faces before taking a snap. I try to do this in dramatic fashion at the end of the demo, stunning zombies in place before whipping my phone out for the perfect selfie. But I failed at the last. Bah!
The controls are a lot better in Dead Rising 4 than previous games in the series. RT automatically uses your ranged weapon, while X is reserved for melee. This way, you don't have to keep switching between weapons, making for much more fluid combat.
Dead Rising 4 felt a lot smoother than I was expecting. Dead Rising 3 on Xbox One suffered technical issues, so I was happy to find Dead Rising 4's E3 2016 demo devoid of any serious technical hiccups - and with plenty of zombies on screen, too.
It all bodes well for a fun, over-the-top zombie experience.