Guardians of the Galaxy's Dave Bautista playable in Gears 5
Drax entertainment.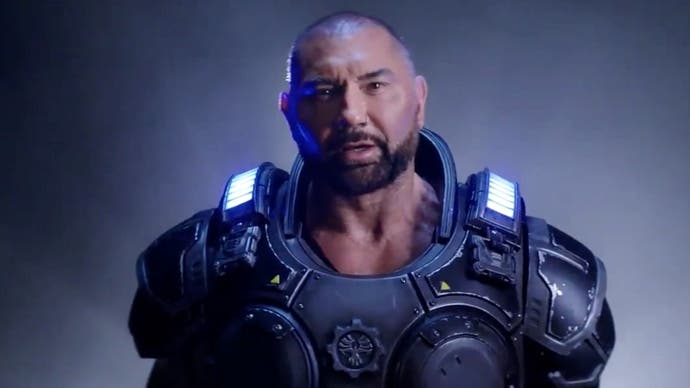 Dave Bautista, of WWE and Guardians of the Galaxy fame, will be a playable character in Gears 5, and available from 15th September.
Bautista, who portrayed Drax the Destroyer in Guardians of the Galaxy, will appear in Gears 5 as part of a collaboration between Microsoft and WWE. His arrival coincides with WWE's Clash of Champions event - scheduled for Sunday, 15th September - and the character can be unlocked by playing either the PC or Xbox One version of the game between then and 28th October.
According to Gears of War series director Rod Fergusson, Bautista (who will appear using his WWE ring name Batista) has recorded over 700 lines of dialogue for Gears 5.
"We started with the fantasy of 'Batista as Marcus,' putting Batista into Marcus' armour, and starting with Marcus' script," Fergusson told Xbox Wire. "Then we added elements of 'The Animal' Batista into his voice performance and onto his look by adding his signature Hollywood shades to his character. Batista was great in the booth and I can't wait for Gears and Batista fans alike to stomp some Swarm as The Animal."
There's the briefest of glimpses of Bautista in his full Gears outfit in the teaser video above (shared on his Twitter page), and you can tell he means business because he do a swear.
Gears 5 releases well ahead of Batista's debut, coming this Friday, 6th September.