Devs slam Hitman: Absolution promotion that invited you to identify female Facebook friends by their "small tits" and then kill them
UPDATE: Square Enix apologises, describes promotion as "wide of the mark".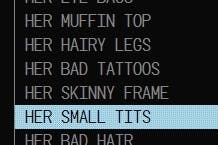 UPDATE: Hitman: Absolution publisher Square Enix has issued a short statement in response to the promotion, apologising for the app's content which it described as "wide of the mark".
"Earlier today we launched an app based around Hitman: Absolution that allowed you to place virtual hits on your Facebook friends. Those hits would only be viewable by the recipient, and could only be sent to people who were confirmed friends," the message passed to Eurogamer reads.
"We were wide of the mark with the app, and following feedback from the community we decided the best thing to do was remove it completely and quickly. This we've now done.
"We're sorry for any offence caused by this."
ORIGINAL STORY: Gamers and developers alike have reacted in dismay at a now-offline Hitman: Absolution promotion which allowed players to identify and threaten Facebook friends for assassination.
Methods of identifying female friends included "her hairy legs", "her muffin top" and "her small tits".
Methods of identifying male friends included "his ginger hair", "his sh** hair" and "his tiny penis".
You could then choose a reason to kill your friend, such as the fact that they "smell bad" or were cheating on their partner.
Your friend then received a personalised video on their Facebook wall identifying them as a target. Signing up to watch the video presented recipients with a mixture of their own photos and Facebook details merged into a video of Hitman character Agent 47 shooting them.
The promotion, which was brought to our attention by Rock, Paper, Shotgun, included a voice that tells users why they have been targeted.
"Target identifiable by... her small tits," we were told during the video.
Eurogamer was able to verify both the male and female versions (thanks to Wes and a newly female Robert Purchese).
"With the horrific rise in internet bullying it seems like a risky move to publish an app that encourages bullying," Sarah Wellock, community manager at Batman: Arkham City developer Rocksteady Studios, wrote on Twitter. "All press is good press?"
"The Hitman Facebook advertising thing is just all the kinds of messed up," BioWare designer Jos Hendriks added. "How did anyone think this was a good idea?"
"I don't even know what to say re: the Hitman harassment Facebook app. What... even," one gamer wrote. "All it takes is one stupid idea and no one to question it."
"This Hitman Facebook ad campaign has to be made up," concluded Nathan Vella, co-founder and president of Might & Magic: Clash of Heroes developer Capybara. "There's no way something like this gets made, then ok'd, then launched public."
The promotional site was hosted on and linked to from Hitman.com, but now seems to have been pulled after nearly three hours.
It's not the first time that Hitman: Absolution's marketing has stirred up controversy. An early trailer for the title depicted Agent 47 gunning down a troupe of latex-clad killer nuns.
We've asked Hitman publisher Square Enix for comment on the campaign and will update when we hear back.