Fortnite refer a friend program, rewards and how to unlock the Rainbow Racer skin explained
Voucher.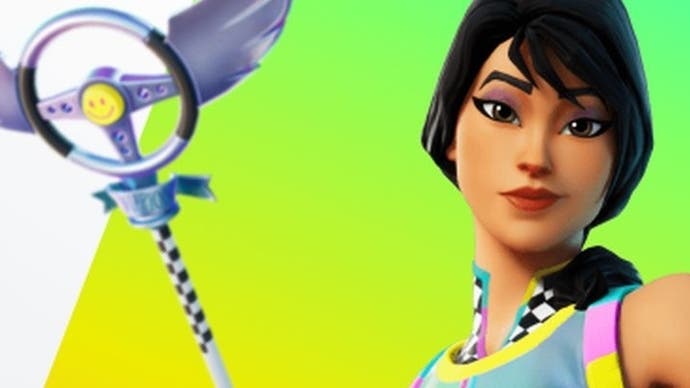 Do you have someone in mind to toss an invite? Here's how to refer a friend in Fortnite and unlock the Rainbow Racer skin and other rewards.
Refer a friend in Fortnite allows you to invite a pal who's new to the game and earn multiple rewards in the process.
Working similarly to the reboot a friend program, which was reintroduced in early 2021, this program is targeted at new players who may want to get started on the game or just played for a short window of time thus far.
This page will explain how to refer a friend in Fortnite as well as how to unlock the Rainbow Racer skin by completing a number of tasks beforehand.
On this page:
How to refer a friend in Fortnite explained
Refer a friend is a fairly simple program in practice, allowing you to to become the referrer of a new Fortnite player in exchange for rewards. Thankfully, said rewards can be unlocked by both the referrer and the referee, so it's a promising incentive.
In order to kickstart the program, you as the referrer have to launch the game in any platform, and then log in on the refer a friend website. Once there, select the person you want to refer from your friends list (using your Epic Games account).

It's worth noting that the your friend must have played less than 120 minutes of a core Fortnite Battle Royale mode (this includes Solo, Duos, Trios or Squads) in the last 30 days (this includes new players). As such, the referrer needs to be the one who sends the invite, otherwise it won't work. May sound obvious, but we double checked this just in case!
An easier way to send an invite is, once you're logged in on the site and following the steps, the site will give you the option to just share a handy link to the invite.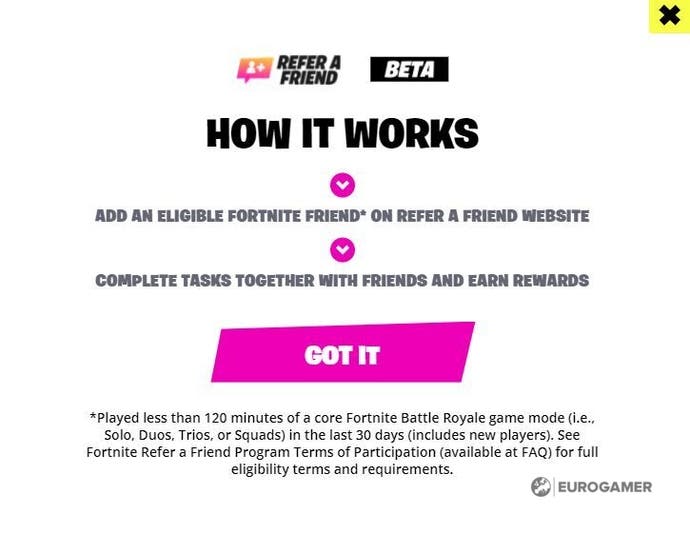 Moreover, you can have up to five referees from now until the end of the program. Of course, each reward can only be earned once, but it means you can keep on helping other folks to get theirs too.
That being said, there are limitations in terms of time periods to complete these tasks, which we'll explain below.
Fortnite refer a friend sign-up end date: When does refer a friend ends?
The refer a friend program in Fortnite is divided into two periods, so it's best for you to jump in and get started as soon as possible.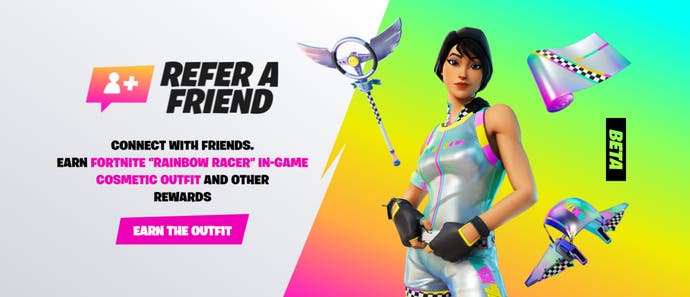 For the refer a friend sign-up period, the dates are as follows:
Monday, October 25th (9am UK, 10am CEST, 4am EDT, 1am PDT)
Sunday, November 14th (4:59am UK, 5:59am CEST, 11:59pm EDT, 9pm PDT)
After you've signed up a friend or more as your referee, you both can earn the rewards between the following dates:
Monday, October 25th (9am UK, 10am CEST, 4am EDT, 1am PDT)
Monday, January 10th (4:59am UK, 5:59am CEST, 11:59pm EDT, 9pm PDT)
Now, let's see what's in store in terms of rewards.
---
Fortnite Chapter 5 Season 1 is here! It brings a free Lego Insider skin and redemption codes with it, along with a new Victory Umbrella. We've also got pages on new features like Medallions, Weapon Mods, and how to complete a Train Heist. Meanwhile, learn what the best weapons are in the current season, how to get XP fast, and what the best PC settings are to help earn a Victory Crown.
---
Fortnite refer a friend rewards - how to unlock Rainbow Racer explained
There is a total of five rewards to unlock with Fortnite's refer a friend program. For each, you and your referee will have to play together and complete a certain task.
You can find all refer a friend rewards including the Rainbow Racer Fortnite skin below:
| Reward | | How to unlock |
| --- | --- | --- |
| Gridlock loading screen | | Create a Connection (enroll a friend as a referee in the program) |
| Miridescent wrap | | Play 1 game in Fortnite with a referee |
| Flair Fare glider | | Place top 10 a total of 3 times with a referee |
| Drive Shaft pickaxe | | Eliminate 10 opponents with a referee |
| Rainbow Racer skin | | Gain 60 Plus Levels on your own and wait for your referee to gain 60 Plus Levels |
Worth noting that your progress with these tasks is displayed on the refer a friend website instead of an in-game tab. Plus, as it's mentioned in a disclaimer, rewards will be granted directly to your Epic account within one hour of completing the task. So, don't fret if you don't see it right away.
As for the Rainbow Racer skin requirement, gaining at least 60 levels can be a time consuming task. Luckily, the extended period until January 10th should help. When in doubt, however, focus on Fortnite Challenges to get the most out of each battle royale session!