Best 75% mechanical keyboards for gaming and typing
Based on hundreds of hours of testing.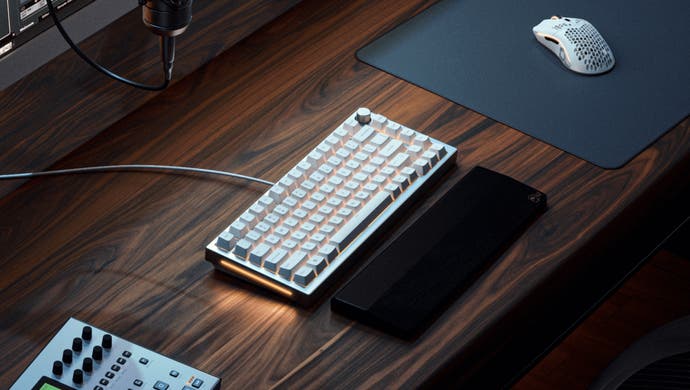 75 percent mechanical keyboards are a popular emerging category, offering nearly as many keys as a tenkeyless (no numpad) keyboard in a much more compact footprint. If you prefer a smaller keyboard, for ergonomics, portability or just aesthetics, but you can't live without the arrow keys and Function row that's necessarily excised on even the best 60 percent and 65 percent size keyboards, then 75 percent could be just right.
In this article, we'll share our absolute favourite 75 percent mechanical keyboards. After hundreds of hours of research, building and testing, we've narrowed down dozens of the best mechanical keyboards to just seven recommendations that we're confident will be great choices for gaming, typing, programming and more - including both wired and wireless options that work on Mac and PC.
To check out our selections, click on the keyboard you're interested in the list below or simply scroll on!
Best 75% mechanical keyboards
---
1. Glorious GMMK Pro
A handsome, customisable and impeccably built keyboard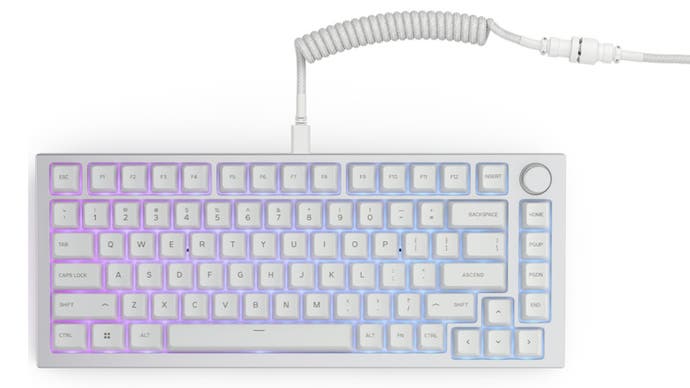 The Glorious GMMK Pro is a magnificent keyboard, but one that requires a bit of fitting together. Luckily, the skill required is far more "LEGO" than it is "jet engine" or even "computer" - you'll just need to push in switches into the bare board and then press keycaps onto the switches. Glorious were kind enough to send over a full spread, including keycaps, their impressively tactile 'Panda' switches and a fancy curled USB cable, but you should be able to use pretty much any Cherry MX-style switch in these hot-swappable sockets so you have a great degree of control over how the keyboard feels to use.
Whichever switches and keycaps you choose, the solid aluminium case, clipped and lubed stabilisers, gasket-mounted plate and fancy rotary encoder (aka programmable knob*) make for an outstanding first impression. The keyboard is fully customisable in software, from its RGB back-and-side lighting to its key bindings, which can be done in the Glorious Core software or programs like QMK Toolbox if open-source QMK firmware is installed. Installing this firmware also reduces input latency significantly (RTings measured 10ms vs 26ms), but means that RGB backlighting is disabled, which is a shame. This issue should be solvable in future, either by adding RGB to the QMK firmware or reducing the input latency of the default firmware, but right now it's the only issue with the board worth mentioning - and for what it's worth, I didn't notice any difficulties using the keyboard for gaming.
The GMMK Pro is a tantalising prospect, bringing the nerdy fun of custom mechanical keyboards to a wider audience and delivering an absolutely outstanding typing experience out of the box. If its few firmware issues can be solved, Glorious will have created what for many people is the perfect 75 percent keyboard.
*Coincidentally, also my university nickname.
Buy:
---
2. Keychron K2 / K3
Compact, cheap, capable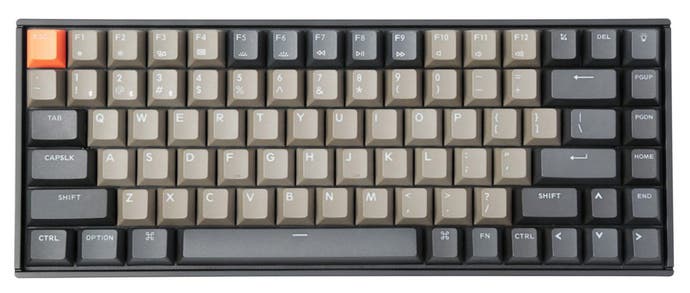 The Keychron K2 sets an incredibly high bar when it comes to value, offering a well-built keyboard with plenty of switch and backlight options at a very attractive price. It comes with Mac and Windows keycaps in the box, including a Mac-style Function row, which makes it almost uniquely Mac-friendly while still working just fine on Windows and Linux computers. The default K2 comes with Gateron Red, Blue or Brown switches, a plastic frame and a white key backlighting, but you can spend a little more to get RGB backlighting or RGB backlighting with an aluminium frame. Even for the most expensive option, you're still getting a great deal.
The ($74) Keychron K3 is also worth mentioning. This keyboard is even lighter and more portable than the K2, swapping out full-height mechanical switches for low profile Gateron or Keychron Optical alternatives. This provides a snappy, laptop-like feel that I really adore. For more on the K3, check out our write-up here - including other great gaming keyboards of all sizes.
Buy:
---
3. NZXT Function MiniTKL
Cleanly designed with a volume wheel and extra keys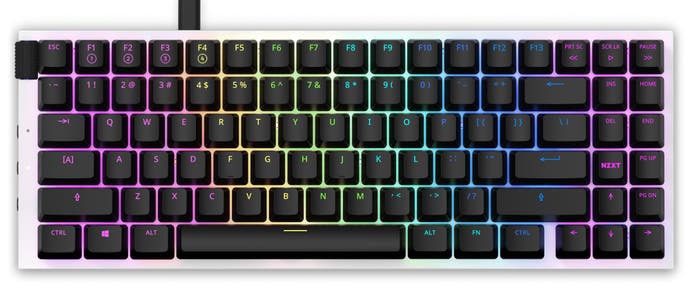 The Function MiniTKL is the most interesting of the NZXT's new trio of mechanical keyboards, with the well-known PC case maker bringing its clean aesthetics to a new product category. Its 88-key layout includes two columns on the right hand side of the board where most 75 percent keyboards have only one, and it also sports a volume wheel on the left side of the chassis. I think this is easier to reach than a wheel in the upper right, at least when you've got one hand on the mouse and the other on WASD, and to include the wheel without taking up any key space is very clever.
Outside of this, the keyboard is quite pedestrian but ticks most of the boxes - hot-swappable Gateron switches, RGB lighting (set via CAM software) and a choice of proper US or UK layouts. The non-standard layout does mean that finding custom keycap sets could be tricky - and with ABS keycaps by default you may well prefer the more premium feel of PBT alternatives - but at least the bottom row is standard and the USB-C cable is removable.
Overall, a fine first effort from NZXT, and well worth checking out alongside the larger Function Tenkeyless and full-size Function.
Buy:
---
4. Melgeek Mojo84
A unique look and a brilliant typing experience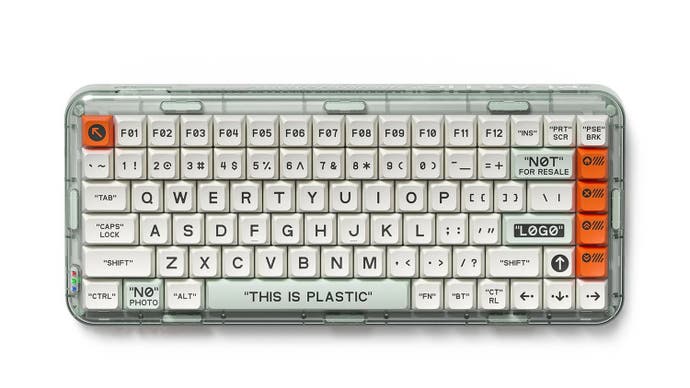 The Melgeek Mojo84 is an eye-catching pre-built mechanical keyboard with a transparent polycarbonate case that doesn't use any screws, unique double-shot ABS keycaps with bold legends and tri-mode connectivity (USB-C, 2.4GHz wireless and Bluetooth). It just looks cool sitting on a desk, though without backlit keycaps its RGB backlighting isn't very effective.
I absolutely love the look of this keyboard, but what really won me over is its feel. The Kailh Box Plastic switches are soft, linear switches that work well for gaming and typing alike, with a pleasantly deep report due to the gasket mount and plenty of added foam included here. The Mojo84 has small fixed rubber feet, but the MDA keycap profile does provide a natural curve so I didn't find the lack of adjustment an issue whatsoever.
The 84-key layout is tight and logical, though I did find having the delete key below the home key was unexpected. The keyboard can be rebound in the Melgeek Hive software, which is significantly more polished than I'd expect from a boutique keyboard maker - that's great to see.
Buy:
---
5. Epomaker AK84S
A chunky, feature-filled unit with some unique add-ons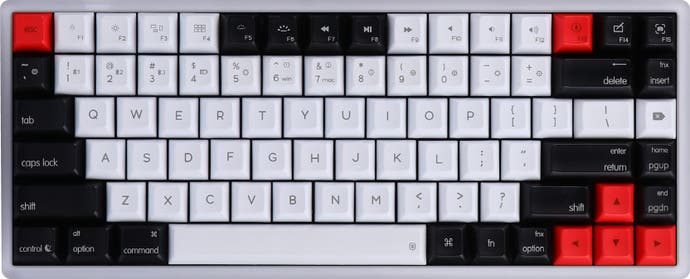 The Epomaker AK84S is available in a few guises, but one particular configuration looks and feels like no keyboard I've tried before. I was sent a model with a pleasantly rounded shell crafted from transparent acrylic and colourful silicone-topped keycaps (below), resulting in an unusually soft key feel and a very interesting look. I've never fielded more questions about a keyboard than when I took this one to a local café post-lockdown!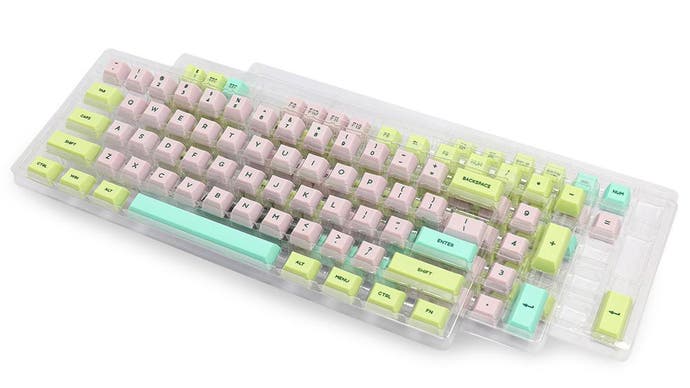 Apart from the depth of its customisation options, the AK84S is in other respects a good, capable keyboard. It's available with Gateron's optical or standard mechanical switches of several varieties, has a Function layer for extra controls, swaps seamlessly between Mac and Windows configurations and can be used wired via USB-C or wireless via Bluetooth 5.1. There's RGB backlighting too, which is controllable on the keyboard itself or in software, and is visible through the acrylic case if you opt for that version (more common plastic and aluminium frames choices are also available). Many of the keyboards in this roundup offer something a little extraordinary, but the AK84S is still able to stand out proudly.
Buy:
---
6. Niz Plum Micro84
Soft electro-capacitive (Topre-like) switches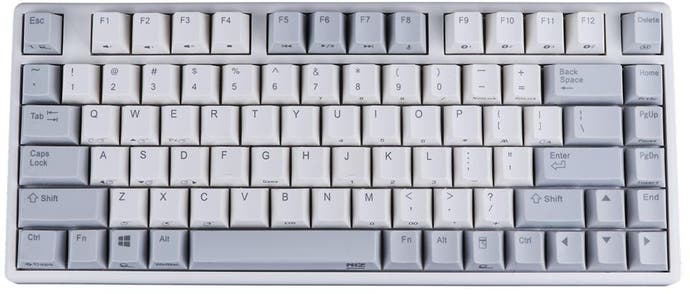 The Niz Micro84 (sometimes called the Plum Micro84) brings something unique to the table: electro-capacitive switches that combine the soft feel of rubber dome keyboards with the accuracy and durability of mechanical keyboards. You may have tried (or heard about) these sorts of switches on boards like the Topre Realforce or Happy Hacking Keyboard (HHKB), which are well known for their soft and pleasant typing feel. Of course, those examples are both incredibly expensive, but the Micro84 is a lot more reasonably priced.
Asides from its unique switches, the Micro84 impresses with its long feature list. This is a Bluetooth keyboard that can also be used wired, it comes with numerous backlighting options from no backlighting to full RGB, and it has an incredible number of functions accessible through the Fn layer. This makes for a slightly busy-looking keyboard, with tons of legends on each keycap, but it means you really don't miss out on anything - there are controls for the mouse, volume, media, backlighting, numpad, Bluetooth connections and much more.
All things considered, the Micro84 is a unique keyboard that's well worth experiencing, especially for typing and programming, even though its unique switches and lack of customisable firmware mean that your options for post-purchase customisation are limited.
Buy:
---
7. Royal Kludge RK84
A good wired/wireless budget option with hot-swap switches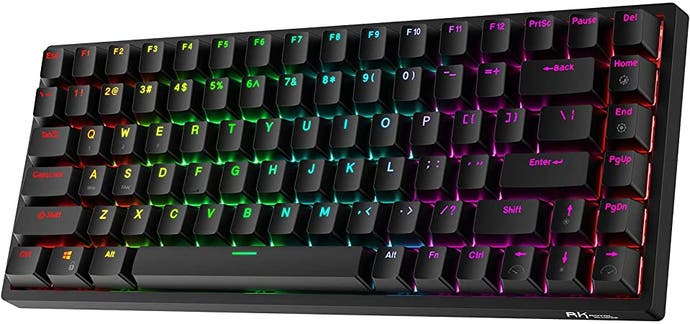 The Royal Kludge RK84 is one of the most affordable wired and wireless keyboards of this size, offering a compact layout that nonetheless includes all of the keys often left out of smaller designs. The RK84 doesn't do anything daring in terms of its design or features, but it feels solidly built in the hand, exhibiting no deck flex, and looks clean. Keycap legends are a common stumbling block for budget designs, but here the font used is sensible, with alternative functions shown in white below the backlit primary legends. The RGB backlighting can be adjusted or disabled without installing software, and other functions like volume and media controls, shortcuts and Function lock work as advertised too.
My favourite feature of this keyboard are its switch options, which in addition to the usual soft linear and tactile (MX Red and MX Brown, respectively), include a clicky MX Blue switch. The board is also hot-swappable, so you can remove the RK-branded switches and replace them with any other three-pin design. In terms of connectivity, USB is supported (with a two port hub, even!) as well as Bluetooth and 2.4GHz wireless (via a USB dongle). This makes it easy to connect to a wide range of devices, while the 3750mAh battery provides months of use with RGB disabled (or weeks otherwise).
Overall, a great value keyboard - especially when bought direct from RK's store - and one that I'll keep around for mobile use in the future!
Buy:
---
8. Logitech MX Keys Mini
A quiet non-mechanical keyboard of real quality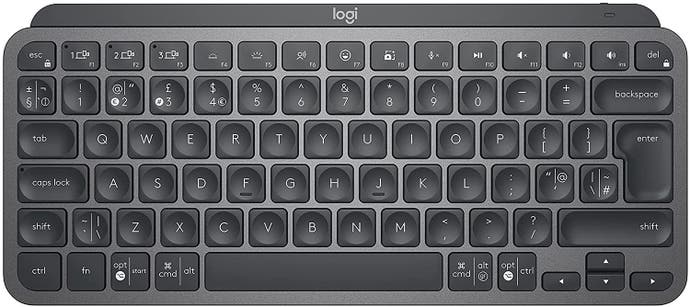 The Logitech MX Keys Mini is a smartly presented scissor switch (ie non-mechanical) keyboard that is worth considering alongside mechanical options. It offers contoured low profile keys with white backlighting and a compact layout that includes a few unique hotkeys, like buttons for emojis and screenshots. For gaming, the Keys Mini works surprisingly well, with the short travel making it easy to input rapid double-taps. It's also quite a quiet keyboard, which makes it a good choice for use in a shared space or crowded office. This is a Bluetooth keyboard, so you could also easily tuck the MX Keys Mini into your bag to use on public transport with a phone or tablet.
The only downside to the MX Keys Mini is that it doesn't come with a 2.4GHz wireless dongle, nor does it work with Logitech's Unifying Receiver, nor can it be connected via USB. It is compatible with another Logitech dongle, the Logi Bolt, but this must be purchased separately at a cost of £11/$15. It's disappointing to see a cheap low-latency option not being available for a keyboard of this price point, even if gaming isn't the keyboard's intended market. The full-size MX Keys keyboard does come with a USB receiver, so this is a disappointing omission as not all computers offer strong Bluetooth connections, although most vwith Wi-Fi do at least include it.
If you're looking for a keyboard that's quieter, slimmer and classier than most mechanical gaming keyboards, the MX Keys Mini is a reasonable choice. I particularly like it for use with a media PC, where its small size and Bluetooth connection make a lot of sense, or for a better typing experience with a laptop.
Buy:
---
9. Vissles V84 (2.0)
Quiet, stylish and great value

The Vissles V84 2.0 sets itself apart thanks to high-end PBT keycaps as standard, a neat white-on-black colour scheme and incredibly quiet VS linear switches - all for an incredibly reasonable price of $89. These soft linear (no click or tactile bump) switches make the board a real pleasure to use for typing and gaming, and almost remind me of the soft feel of Topre electro-capacitive switches which are normally found only on extremely high-end keyboards like the $249 Topre Realforce. The V84's chassis is also hot swappable, so you can throw in your own switches if you prefer a more tactile or clicky keyboard, for example. Tools for removing switches and keycaps are provided, as well as a comfy faux-leather palm rest.
The V84 also has Bluetooth functionality, Mac and Windows keycaps and an simple, functional software suite for rebinding keys, recording macros and setting the RGB lighting. You can also perform these functions on the keyboard itself, but with no secondary legends to indicate these keys, expect to refer back to the user manual for your first few days with the V84 - so the software may be the easier choice for most people.
The entire vibe of this keyboard is tasteful and expensive, yet at $60 it's by far the cheapest 'premium' keyboard I've ever tested. Highly recommended.
Buy:
---
So there we have it - our top eight choices. Let us know what you think in the comments below, and if you think we've missed out a great contender then do get in touch! You can also reach me via Twitter @wsjudd if you prefer.