Forget the Dead Island: Riptide pre-order incentives, what's happening with that awful Zombie Bait bikini torso edition?
No one will tell me.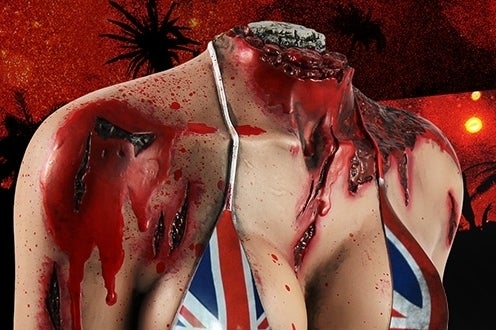 The reason why I'm reporting pre-order incentives for Dead Island: Riptide is because no one will tell me what's going on with the controversial Zombie Bait Edition of the game.
This, you may remember, features the hand-painted statue of a headless and armless, bloodied and mutilated female torso clad in a bikini (design dependent on region).
Unsurprisingly, this ridiculous piece of sexualised gore caused a storm of controversy. Game publisher Deep Silver even apologised to the community. "We sincerely regret this choice," it said. But what it didn't say was whether production would cease.
Despite numerous attempts to contact Deep Silver's parent company Koch both in the UK and at HQ in Germany, I can't get an answer. But seeing as I can still pre-order the Zombie Bait Edition at multiple major retailers online, it certainly looks like production is going ahead.
The Zombie Bait Edition is for sale at Zavvi for £85, at GAME for £90, and at SimplyGames for £90 (£95 with shipping).
Now for the pre-order DLC, excuse the rant.
GAME has UK-exclusive dibs on the Fashion Victim pre-order DLC. This includes new skins for all playable characters in co-op mode.
The Survivor Pack pre-order DLC will presumably turn up in various shops. Included are a BBQ Blade weapon that's hooked up to fuel tanks, an XP/stat booster and a special shop where you can buy discounted weapons and items.
Both can be bought separately as DLC. The Survivor Pack costs 400 Microsoft Points or £3.99 on PSN; the Fashion Victim DLC costs 160 Microsoft Points or £1.49.
Dead Island: Riptide's out for PC, PS3 and Xbox 360 on 26th April.