Dead Island: Riptide Zombie Bait edition has headless, armless bloody bikini torso figurine
Update: Deep Silver issues an apology. "We sincerely regret this choice."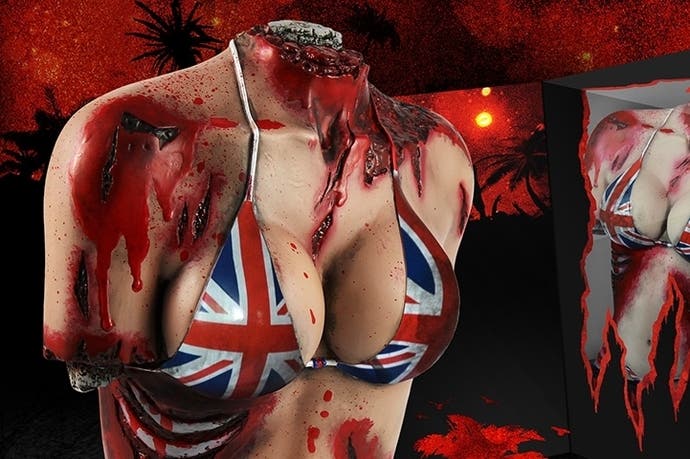 Update: Dead Island Riptide publisher Deep Silver has taken to Twitter to apologise for its controversial bloodied, buxom bust collectible.
It's unclear if the Zombie Bait Edition is still going into production and if it will still include the torso, but until then Deep Silver has issued the following statement:
"We deeply apologise for any offense caused by the Dead Island Riptide 'Zombie Bait Edition,' the collector's edition announced for Europe and Australia. Like many gaming companies, Deep Silver has many offices in different countries, which is why sometimes different versions of Collector's Editions come into being for North America, Europe, Australia, and Asia."
"For the limited run of the Zombie Bait Edition for Europe and Australia, a decision was made to include a gruesome statue of a zombie torso, which was cut up like many of our fans had done to the undead enemies in the original Dead Island."
"We sincerely regret this choice. We are collecting feedback continuously from the Dead Island community, as well as the international gaming community at large, for ongoing internal meetings with Deep Silver's entire international team today. For now, we want to reiterate to the community, fans and industry how deeply sorry we are, and that we are committed to making sure this will never happen again."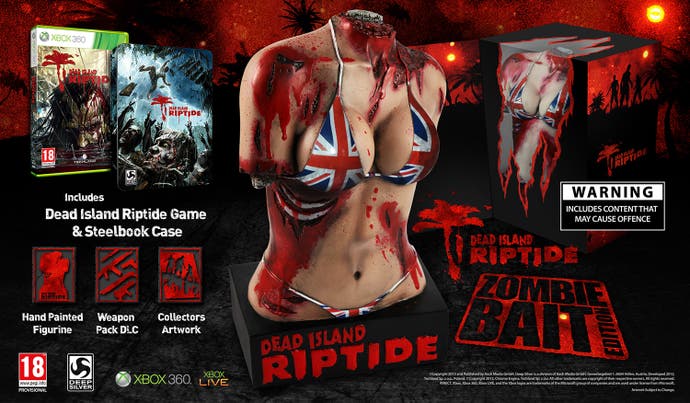 Original story: The Zombie Bait edition of Dead Island: Riptide comes with a gory bone-protruding, armless and headless torso figurine of a woman wearing a Union Jack bikini.
It's 31cm tall and 18.5cm wide, hand painted and referred to as "a striking conversation piece" by the game's publisher Deep Silver.
The Zombie Bait edition also comes with a Steelbook game case, artwork cards and an exclusive pack of weapon mods.
It costs RRP £99.99, Deep Silver told me this afternoon.
Dead Island: Riptide is out 26th April on PC, PS3 and Xbox 360.