FIFA 19 best goalkeepers - the best GKs and keepers in FIFA
The top stoppers in FIFA 19 and where to find them.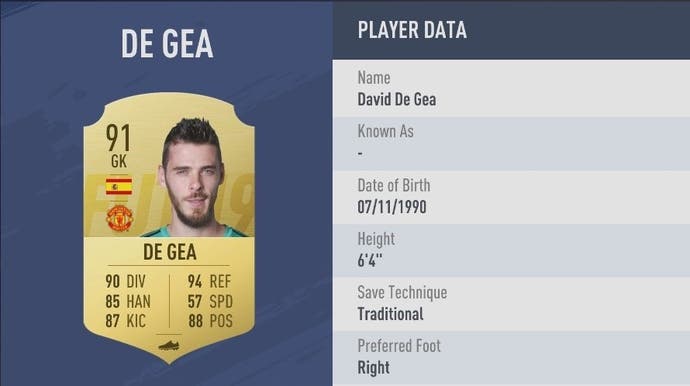 The best FIFA Goalkeepers are also probably the most valuable players you'll pick up - not because of their cost on the market, but their ability to keep you in the game when things get a little dicey.
Here on this page, we'll be listing FIFA 19's best goalkeepers - referred to in FIFA as GKs, in order of their overall rating, but be sure to take a look at the specifics depending on what you want out of them, like GK Handling if you hate it when your 'keeper drops a rebound right in front of the opposition, or GK Kicking for setting up speeder counter attacks from a drop kick.
For other stats-based guides, it's worth taking a look at our list of the highest potential FIFA 19 wonderkids, plus we have pages on the best Defenders, best Midfielders, the best Wingers and best Strikers in the game, too.
On this page:
FIFA 19 best Goalkeepers - the best GKs in FIFA
Without further ado then, let's dive in!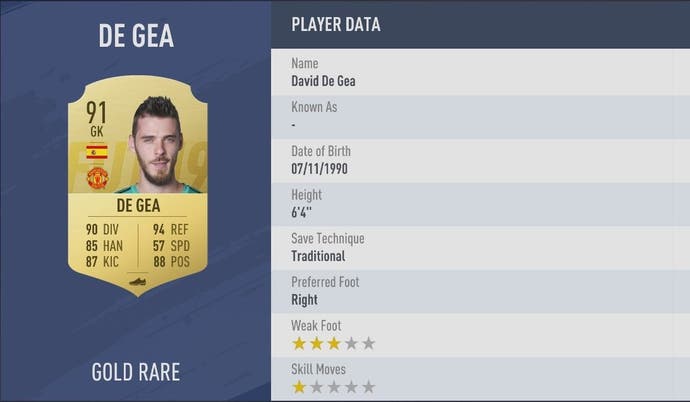 FIFA 19 best Goalkeepers (GK)
| Rank | Player | Club | Overall Rating |
| --- | --- | --- | --- |
| 1 | David De Gea | Manchester United | 91 |
| 2 | Manuel Neuer | Bayern Munich | 90 |
| 3 | Thibaut Courtois | Real Madrid | 90 |
| 4 | Jan Oblak | Atletico Madrid | 90 |
| 5 | Marc-André ter Stegen | Barcelona | 89 |
| 6 | Gianluigi Buffon | PSG | 88 |
| 7 | Samir Handanovic | Inter | 88 |
| 8 | Hugo Lloris | Tottenham Hotspur | 88 |
| 9 | Keylor Navas | Real Madrid | 88 |
| 10 | Ederson | Man City | 86 |
---
FIFA 20 ratings and the top 100 players are here! Plus there's details on the FIFA 20 full release date, the FIFA 20 Ones to Watch OTW players list so far, and a full FIFA 20 Icons list, too. Otherwise, head back to our main FIFA 19 tips, controls and guide hub for much more on FIFA 19 in one place, including a full FIFA 19 The Journey: Champions walkthrough of objectives, decisions and rewards, lists of all Five Star Skillers, all FIFA 19 FUT Icons in the game, a list of the best FIFA 19 players in the top 100 FIFA player ratings list, plus the best goalkeepers, best defenders, best midfielders, best wingers, and best strikers, and dedicated, in-depth explainers on FIFA 19 Chemistry and Chemistry Styles, too. There's also a list of FIFA 19 potential wonderkids and best young players, how to take set pieces like free kicks and penalties, and finally a list of all FIFA 19 OTW cards, too.
---
Other things to know about picking the best FIFA Goalkeeper
As we alluded to above, there are a few additional things to bear in mind when choosing your goalkeeper in FIFA 19, with slightly different factors becoming more or less important depending on the mode you're playing.
For Career Mode, potential is important too - Some players have higher built-in potential for growth than others, and if you're planning on playing at least two seasons of Career Mode then it's going to have a major impact on your squad. It's also a great way to pick up a bargain, too, so if you're keen on finding some youngsters take the time to go over our detailed list of the best FIFA 19 potential wonderkids and young players, which includes some of the finest young 'keepers in the game.
For Ultimate Team, remember you can use Chemistry Styles - Chemistry Styles, if you didn't know, add up to a whopping 90 points to your player's attributes, spread according to the Style you choose. For Goalkeepers, the Cat and Glove styles are the most popular, but you can read more on Chemistry in general in our guide to how FIFA Chemistry works, and likewise the best FIFA 19 Chemistry Styles in our detailed guide to those, too.
Think about your style of play when looking at stats - We mentioned this briefly above, but certain keepers will work better in certain situations. Manuel Neuer, for instance, is great at coming off his line and sweeping up, whilst Gianluigi Buffon is a little slower.