FIFA 19 OTW cards - new Ones to Watch players list and OTW cards explained
FUT 19's hybrid player cards listed and explained.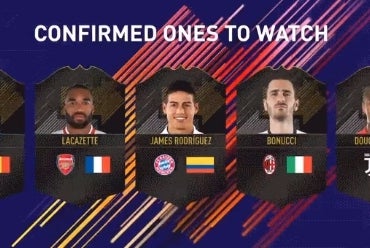 FIFA 19 Ones to Watch cards are a significant, recently-added mechanic in Ultimate Team mode, collecting several hand-picked players under the age of 30 who secured high-profile transfers this summer.
A 'live' version of player cards in FUT, Ones to Watch add an intriguing option for players both on the pitch and in the ever-changing FUT Transfer Market, tracking players form over time.
On this page:
FIFA 19 OTW cards explained - what are Ones to Watch cards and when are they available from?
In brief, Ones to Watch cards work by changing according that player's in-form cards in Ultimate Team. It means that if, say, Messi picks up a new Team of the Week card with improved stats of an Overall 96, compared to his usual 94, his One to Watch card will change to a 96 rating.
They're essentially a fantastic invenstment card - but it depends on your own powers of prediction too, as the cards are expensive if you don't get one with luck, and will only improve over time if that player is having a great season themselves.
Here's everything we know about Ones to Watch cards in FIFA 19:
Ones to Watch are only in packs for a limited time - A short while after launch day these will disappear from packs. From then on, they'll only be available on the transfer market, meaning that they function, primarily, as an investment card for fantasy-football style bets on the market - at least until the next round are released in February for the winter update.
Ones to Watch increase according to the latest in-form version of the card - So, if Neymar increases from 92 to 94, then he gets a 94-rated card. If he's even better in a later Team of the Week and gets an 95, then his Ones to Watch card will rise to 95 too.
Ones to Watch can't decrease in rating - Once they increase, that's the minimum rating the card will have for the rest of the season. It only changes if there's another, higher-rated in-form card released down the line. Even better!
Ones to Watch are available in any FUT player pack - That means any free packs, purchased packs, or gifts could have a Ones to Watch player inside, so long as the pack features some player cards itself.
Ones to Watch ratings are updated immediately - As soon as the new Team of the Week or other in-form card is available, the Ones to Watch card will increase.
Ones to Watch replace their standard versions during the release period - Whilst they're available in packs, Ones to Watch will replace any standard versions of the card. So you can't pack a Romelu Lukaku that isn't a One to Watch card in that first week.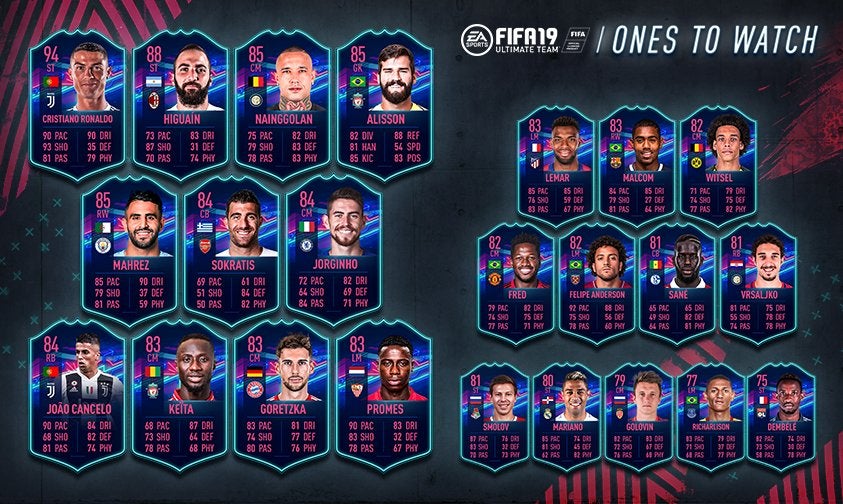 FIFA 19 OTW players list - all confirmed FIFA 19 OTW cards
If you're doing a spot of team-building - and, of course, have already read up on the details like FIFA Chemistry and Chemistry Styles - below we've put together a list of all 23 currently confirmed Ones to Watch cards, their positions, and their base ratings.
FIFA 19 Ones to Watch Cards:
| Player | Position | Rating |
| --- | --- | --- |
| Alisson | GK | 85 |
| Sané | CB | 81 |
| Sokratis | CB | 84 |
| Vrsaljko | RB | 81 |
| Joao Cancelo | RB | 84 |
| Witsel | CM | 82 |
| Fred | CM | 82 |
| Golovin | CM | 79 |
| Keita | CM | 83 |
| Goretzka | CM | 83 |
| Jorginho | CM | 84 |
| Nainggolan | CM | 85 |
| Richarlison | LM | 77 |
| Felipe Anderson | LM | 82 |
| Lemar | LM | 83 |
| Malcom | LM | 83 |
| Promes | LM | 83 |
| Mahrez | RW | 85 |
| Dembele | ST | 75 |
| Higuain | ST | 88 |
| Cristiano Ronaldo | ST | 94 |
The key here will be picking the players who you feel will hit the greatest run of form this season. Fred, for instance, has had a very slow start at Manchester United, whilst Felipe Andersonhas been on fire for West Ham. But is Anderson's form a flash in the pan? That's down to your own punting skills to decide.
Our tip? Keep a close eye on the values of the OTW cards that are the only ones for their position, like Alisson - not because they're likely to have better seasons than anyone else, but because they could get a potentially dispriportionate boost to their value on the transfer market.