Fancy winning one of 350 games, including Night in the Woods?
It's giveaway time!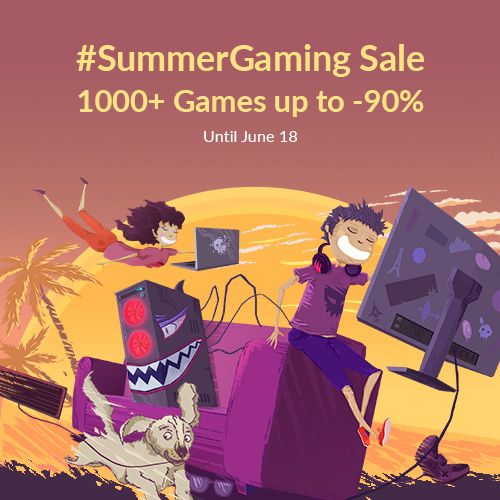 Last week, GOG kicked off its Summer Sale in full, offering thousands of discounts with up to 90 per cent off, and even asked us to pick a bunch of our top choices for our very own collection, which was nice - and a lovely excuse to mention Bioforge again.
The Summer Sale finishes up this weekend, so GOG's gone and given us a big batch of 350 game keys to give away to you dear readers as a thank you for making the whole thing a bit of a success. All you've got to do is follow the instructions on the widget below and you're good to go.
The games themselves will be randomly selected from an assortment that featured in the GOG Summer Sale range. There are ten copies of the truly wonderful Night in the Woods up for grabs amongst the titles on offer, while some of the others featured include To The Moon, System Shock 2, The Witcher series, Into The Breach, Grim Fandango Remastered, Cook, Serve, Delicious 2, Absolver, Hotline Miami 1 and 2, Reigns, Ruiner, Soma, The Witness and a whole bunch more.
SummerGaming - Eurogamer
If for whatever reason, you can't see the competition widget, click this handy link.
Given that there will ultimately be 350 people selected to receive a game, the odds are fairly good that if you enter, you'll end up with something. Just make sure you have a PC that can play a good range of video games and be aware that you'll need to set up a GOG account if you don't already have one.
In short - if you want to be in with a chance of getting one of 350 PC games, courtesy of GOG, fill in that thing up there and do one or more of the things it asks.
While you're over at GOG, you can also check out the Cyberpunk sale which went live yesterday to celebrate the unveiling of Cyberpunk 2077. There's a whole bunch of cyberpunk games with big discounts up for grabs and it's yet another chance to pick up System Shock 2 while it's dirt cheap.
If none of that satisfies your thirst for spending money, feel free to head over to Jelly Deals and check out today's best deals, which include 50 per cent off Superdry clothes, £40 off LEGO sets, and a bunch of other fancy treats.