Fallout 76 is finally getting NPCs in April as part of long-awaited Wastelanders update
And it's coming to Steam on the same day.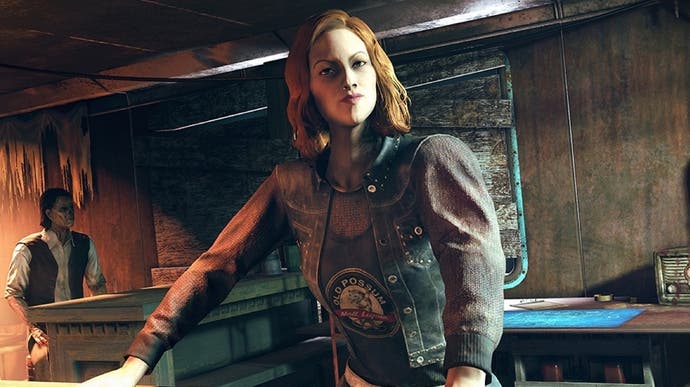 Fallout 76's long-awaited Wastelanders update, which adds fully voiced NPCs to Bethesda's beleaguered multiplayer game, is finally be coming to Xbox One, PS4, and PC on 7th April, and it'll be heading to Steam on the same day.
Wastelanders was initially announced during last year's E3, and aims to remedy one of the bigger criticisms levied at Fallout 76 at launch. As Eurogamer's Wesley Yin-Poole wrote in his review, the absence of NPCs made for a Fallout that "lacks a soul and... lacks consequence".
The Wastelanders update was initially expected to arrive last autumn, but saw a delay into this year, as Bethesda felt it was "going to need more time to be the best, most polished update it can be". Now that an April release date has finally be set, however, the publisher is teasing its new additions - which include a brand-new main quest line, new locations, new enemies, new weapons, and a new reputation system - some of which feature in the trailer below.
Wastelanders will be free to all existing owners of Fallout 76, but Bethesda has also revealed two additional premium content bundles for those eager to part with more cash on launch day. Known as the Raider Content Bundle and Settler Content Bundle, these introduce various themed cosmetics (as detailed in the publisher's latest blog post), plus a small planter for growing crops when no dirt is available.
These will be included alongside the base game in a new Fallout 76: Wastelanders Deluxe Edition release, which will be available for purchase on Xbox One, PS4, and PC (through Bethesda.net or Steam) on 7th April.

Despite a critical panning at launch, and continued controversy surrounding Bethesda's monetisation tactics since, Fallout 76 received substantial content additions throughout 2019. Wildlanders is the final component of the company's current development roadmap, but, regardless of Bethesda's future plans, it doesn't sound like the core fanbase has quite exhausted the game's capacity for inventively sadistic entertainment just yet.