Fallout 4 fans furious as GAME cancels Pip-Boy Edition pre-orders
UPDATE: One day from launch, some customers still to be contacted.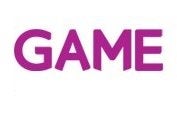 UPDATE 9/11/15 10.45am: Less than 24 hours from launch and some GAME customers are still waiting to hear if they will receive their £99 Fallout 4 Pip-Boy Edition, following the retailer's order errors last week.
Many GAME customers were notified via email early last Friday morning that their payment method had failed for their Pip-Boy Edition orders - but it was actually GAME's system at fault.
A second email was then sent to customers, after many had spent hours on the phone to customer service trying to find out what had happened. This new message, distributed around 6pm, explained that customers still wishing to keep their order would need to reply and provide a phone number for GAME to contact them over the weekend.
As of this morning, a number of Eurogamer readers have got in contact to say this has not happened - despite replying to GAME's email as requested.
Still others have been contacted, however. There's no obvious pattern for who has and hasn't.
For anyone yet to reply to GAME's last message,the retailer wrote: "Please note, if you would like your order on release day we will need you to contact us before 12:00pm on Monday 9th November." There may still be time for this to all work out...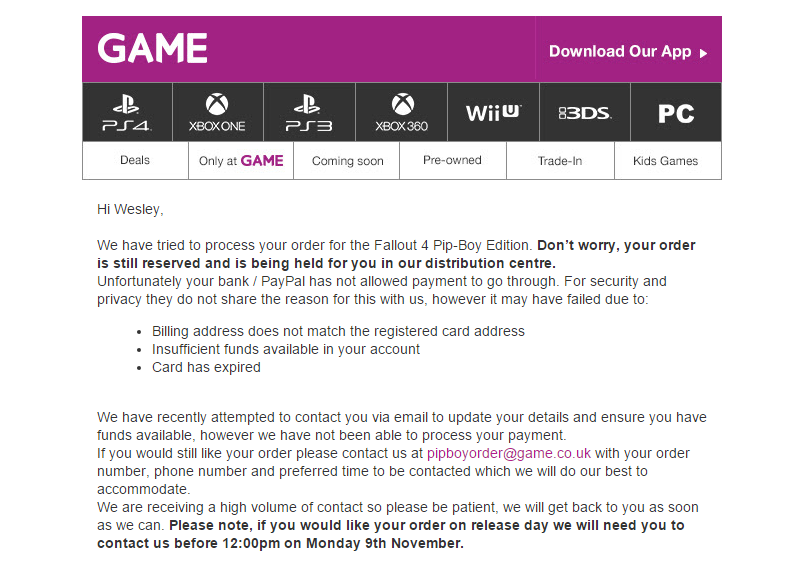 UPDATE 6/11/15 5.30pm: GAME has tweeted to say Fallout 4 Pip-Boy Edition orders are "safe" - but failed to specify when the product will be delivered.
If you pre-ordered on GAME's website, expect an email in the next 48 hours, GAME said.
UPDATE 6/11/15 3.30pm: GAME has admitted that its Fallout 4 Pip-Boy Edition order cancellations were caused by an error in its own ordering system.
Customers were informed of their orders being cancelled via email this morning, and told it was due to their payment method being declined.
Those that have managed to reach the chain's swamped helpline - including one customer that waited 90 minutes on hold - were told that GAME would be contacting affected customers by phone over the weekend to arrange a fresh order.
No timescale was given for delivery.
"GAME inferred that the process would take some time," one affected customer told Eurogamer. "I asked if they'd call back tonight and the employee said it would be 'sometime over the weekend'."
Eurogamer is still waiting for an official comment from GAME. The chain has not mentioned the issue publicly, except for a message on its Twitter account acknowledging a high level of calls to its customer support.
ORIGINAL STORY 6/11/15 12.30pm UK retailer GAME has this morning cancelled countless customer pre-orders for the pricey Fallout 4: Pip-Boy Edition.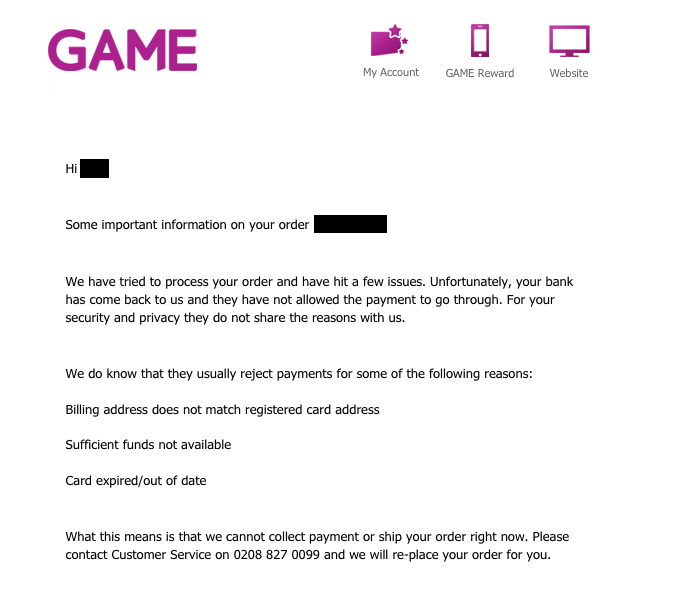 The £99 special edition was only available in the UK via GAME. Many fans had had their pre-orders secured for months - until this morning, when emails began appearing in inboxes delivering the bad news.
"We have tried to process your order and have hit a few issues," the email, shared with Eurogamer, explained.
"Unfortunately your bank has come back to us and they have not allowed the payment to go through. For your security and privacy they do not share the reasons with us.
"We do know that they usually reject payments for some of the following reasons: Billing address does not match registered card address. Sufficient funds not available. Card expired/out of date.
"What this means is that we cannot collect payment or ship your order right now. Please contact Customer Service on 02088270099 and we will replace your order for you."
Eurogamer has been contacted by a number of readers affected by the problem and has seen evidence of the issue occurring with orders taken by PayPal and card.
We have also been told by a number of customers that nothing has changed with their account or card details since their last order. As such, social media is abuzz with Fallout fans questioning GAME's explanation, and wondering whether the shop chain received enough special edition stock to supply all the pre-orders.
NeoGAF has also gathered evidence highlighting the number of customers struggling to connect to GAME's customer services phone line. Many simply can't get through.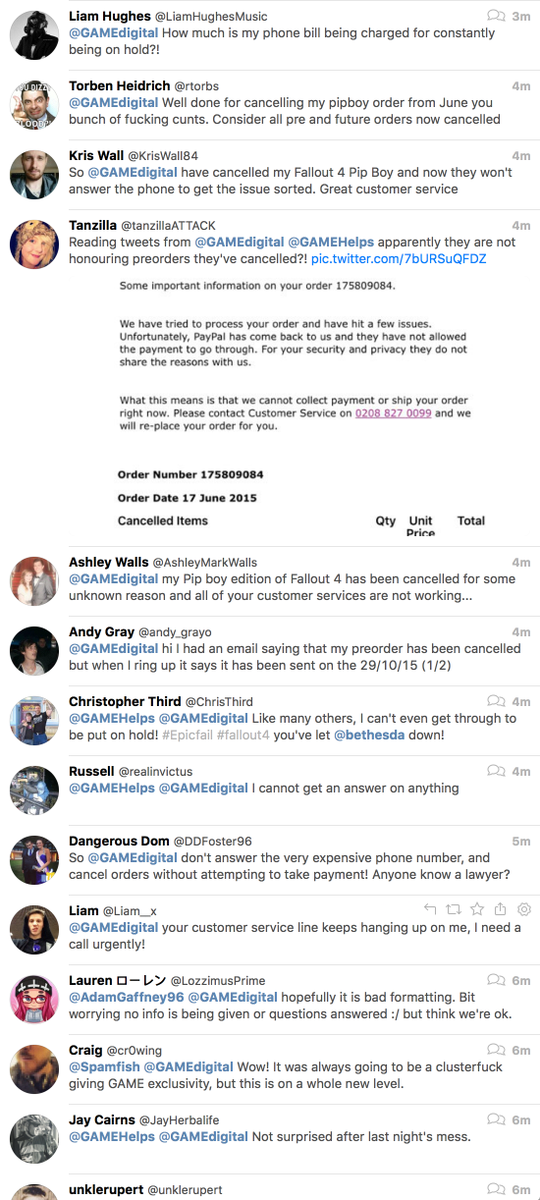 And in another twist, other fans report being charged almost double for their order:
This problem follows multiple payments being taken by GAME for many customer orders of Super Mario Maker.
The Pip-Boy Edition includes a plastic replica of the game's iconic wrist-mounted device, which you can insert your smartphone into and use the Pip-Boy App with. It also comes with a copy of the game, obviously, which means anybody with a cancelled order will have to find a copy elsewhere.
Last month GAME's stock of gift cards ran dry - reportedly after one store manager ordered the entire chain's stock, a claim that GAME itself refuted after replacement stock was then sent out.
Eurogamer has contacted GAME and will update when we hear more.