Eurogamer rocks the Cavern Club
Gamers grab £9.99 Beatles at UK launch.
Beatlemaniacs young and old descended on Liverpool's Cavern Club last night for GAME's Beatles: Rock Band launch event, lured by the promise of playing the same venue where the Fab Four made their name, and left with vouchers to grab a copy of the game for a just £9.99.
Anyone who pre-ordered the title from a GAME or Gamestation store in Liverpool received tickets for the bash and the chance to live the Beatles dream, but the retailer kept the one-off discount up its sleeve until the night itself.
"Everyone here tonight who's pre-ordered will get it tomorrow for £9.99," Neil Ashurst, GAME's UK PR head honcho, told Eurogamer, explaining that the figure was designed to reflect its 9th September 2009 release date.
"The customers are so excited, Liverpool's really behind the game, so the Cavern Club is the only place we thought we had to do this and fortunately we were able to take the place for the night."
As well as a chance to play the game on stage, attendees were also treated to an energetic performance of early Beatles hits by local tribute act, The Beatles Experience. After which, and to the genuine surprise of your correspondent, he was called up on stage to perform a song live with the band, without the aid of a plastic toy or words on a screen or anything. You can see the results on on Eurogamer TV.
This was followed by a boisterous, fiercely competitive 'battle of the bands' clash between rival local GAME and Gamestation stores, each putting forward an all-star team, with the latter emerging victorious.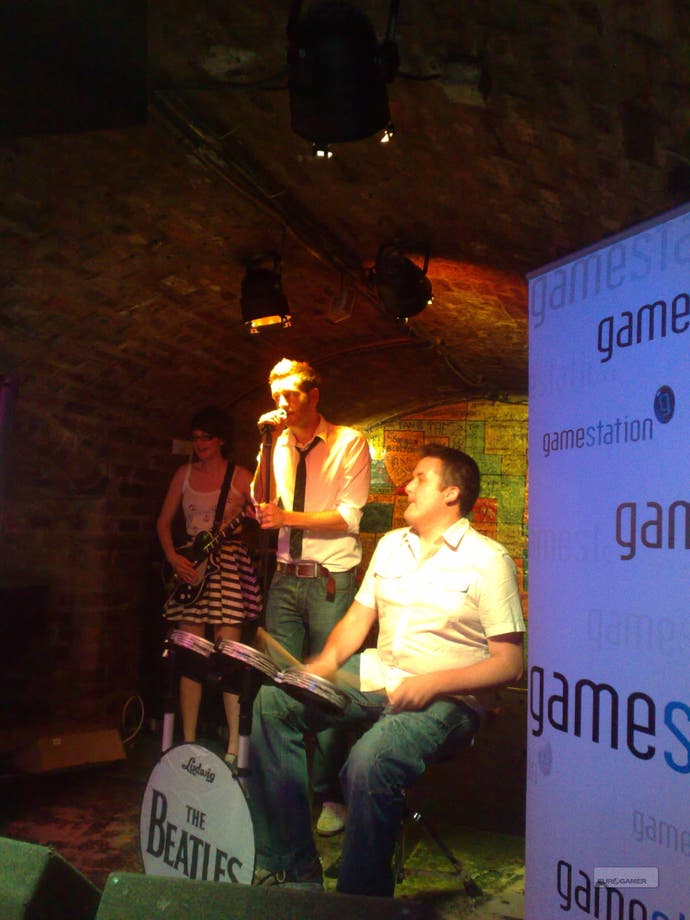 "The better team won," conceded crestfallen GAME store manager Jason Stronstad. "We came to have a laugh, they came to have a laugh. Our best players weren't good enough."
"We've been playing the game and it's absolutely brilliant," chirped Christian Bell, a tired and emotional customer service manager from Liverpool, who waved his discount voucher at us while shouting "£9.99" and something about ASBOs. "You actually feel like you're with The Beatles singing," added gym instructor Paula Nixon. They then performed exclusively for EGTV.
The expectation that a Beatles game could appeal to an audience far beyond that of previous music games also appeared to be borne out on the night. "I'm a gamer myself but I've never been near Guitar Hero. I'm more into Arkham Asylum, games like that," revealed the mysterious Cav, who described himself as a "bass player".
His friend, a barman and stand-up comedian who insisted on calling himself "Fat Mick", agreed: "I'm an absolute Guitar Hero virgin." But they were both rather taken with the look of the game, Fat Mick adding: "If someone said to a child 'draw Ringo', that'd be what it would look like. It's boss. It's like having another Beatles album, because it's so true." So were they planning to buy the game the following morning? "We're down there like a shot."
Although the majority of attendees were from the local area, or desperate London media hangers-on like us, some had come from much further afield to be at the home of The Beatles for the launch.
"This is where it all happened," beamed Hans Roosenbrand, who had travelled with a friend from Holland. "I have been coming here every year for 34 years. The first thing to do tomorrow is go to the record shop." And though not a gamer, he was impressed by what he had seen of Rock Band: "It's a good opportunity for young kids to get to know The Beatles."
"It's certainly taking it to another level in music games," reckoned GAME's Ashurst. "What the sales figures will be, we'll see when it comes out tomorrow, but in general the level of anticipation is huge."
Though all the media hype has been focused on The Beatles, the latest instalment of Activision's billion-dollar Guitar Hero franchise also hits this Friday. "The interest level on all the music stuff is going through the roof," Ashurst added. "We're getting old, young, all kinds of people."
As the night wore on and drinks flowed, more and more people (including us, again, obviously) took up the chance to fulfil their Beatles fantasies on stage. Why is The Beatles: Rock Band important? Just ask 12 year-old Paul McCartney fan Kristian Sudbury, dressed sharply in suit and tie, who told us: "I like the Beatles, I like Rock Band: it's The Beatles Rock Band." Amen.
And would he be inviting friends around to play the game with him tomorrow? "No, I'll just kick them out!"
The Beatles: Rock Band released today on PlayStation 3, Xbox 360 and Wii. You can read our full review elsewhere, and be sure to watch Eurogamer TV's exclusive report on last night's event.