The Beatles: Rock Band
Can buy me love.
"As made famous by." Guitar Hero veterans will remember that phrase all too well as the euphemism employed early in the series to convey the fact that you were playing not the original version, but a cover. "As made famous by Boston"; "As made famous by Queen"; "As made famous by Ozzy Osbourne".
How times have changed. Billions of dollars and tens of millions of game sales later, master recordings are the standard rather than the aspiration, and recording artists increasingly find themselves legitimately labelled "As made famous by Guitar Hero", or "As made famous by Rock Band".
From banging on record label doors, begging and bidding for content on a tight budget, to rockers falling over themselves even in a sober state to bag a place on what have become playlists that can make a band - that's happened in just four years. But as big as Activision and MTV's music giants have become, they're not The Beatles. Nothing and no-one else is.
So the first important point to make about The Beatles: Rock Band is that it's amazing it even exists. It's music's most valuable catalogue, one which has still never been released digitally - yet next Wednesday gamers can download All You Need Is Love from Xbox Live, with full album downloads of Abbey Road and Sgt. Pepper already confirmed to follow.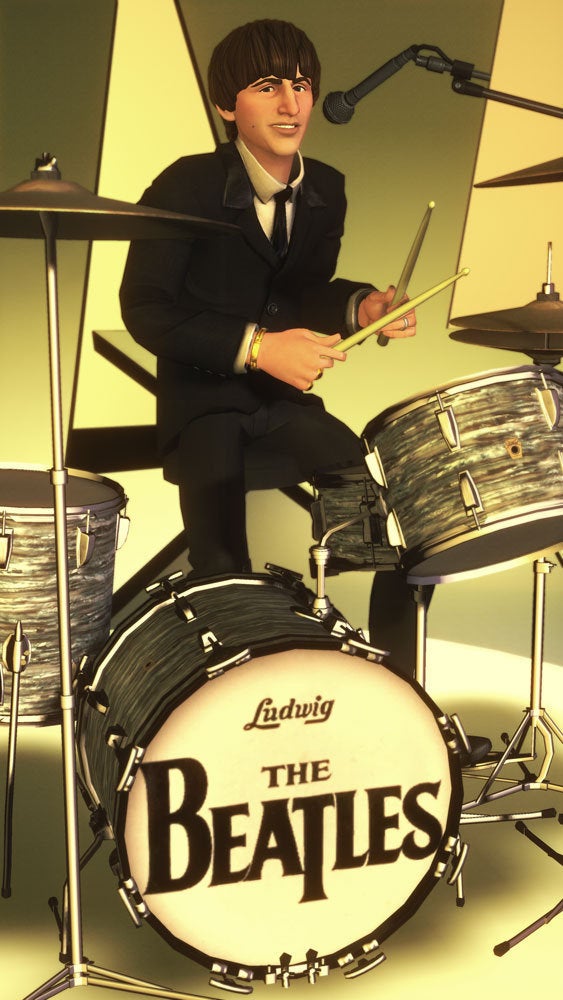 Complete the Story mode, and the endlessly rolling non-developer credits reveal a Gordian knot of unfathomable corporate complexity and competing interests. Somehow, Harmonix has not only handled that, but has then gone on to produce a celebration of such incredible care and artistry it sets a new standard by which all band-specific game experiences will be judged in the future.
Viewed purely as a Beatles experience, it has exceeded the expectations of even this obsessive Beatlemaniac. As I noted in my preview, MTV could easily have shoved out a Beatles track pack with great fanfare and, piggy-backing on the release of the remastered catalogue, it would hardly have tanked. But that, aside from anything else, is not how The Beatles work.
The reason I stress this point is because of the complaints levelled at the tracklisting. Why only 45 songs, when Guitar Hero 5 packs 85 and Rock Band 2 (if you include the free downloads) served up over 100? And what's with the song selection? Where's "Help!", "She Loves You", "Hey Jude", "Strawberry Fields"? It's just a massive con to exploit gamers via DLC, right?
Four points. First, 45 Beatles songs stack up pretty well next to the 28 Metallica tracks in the box for their Guitar Hero gig, the rest contributed by "friends"; second, how many artists are there who have 45 songs strong enough to justify a commercial release?; third - boring commercial reality time - these songs must cost a staggering amount to license and MTV does not have an infinite vault of money; and fourth, how many tracks on average do you genuinely love in the average Guitar Hero/Rock Band release? Be honest. I can only speak personally here, but every single track on The Beatles: Rock Band, whether it be a particular drum fill, a swooning bassline, ingenious harmony or classic riff, contains a memorable, enjoyable gaming moment.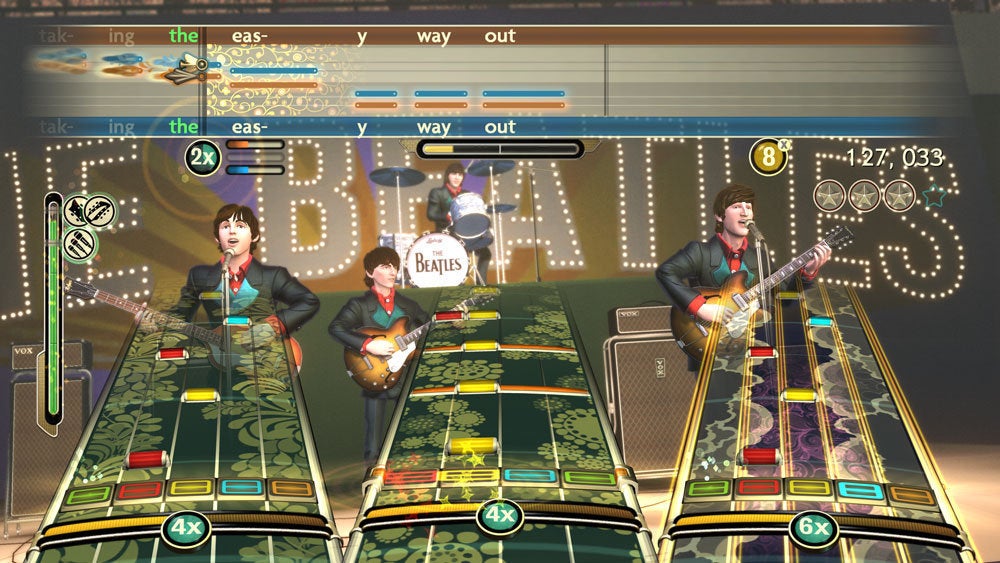 The game is structured to lead the gamer through the high points of The Beatles' remarkable career, with songs specific to each period: from the early days of The Cavern Club, to the US-conquering appearance on The Ed Sullivan Show, followed by the hysteria of gigs at Shea Stadium and the Budokan, the retreat into Abbey Road Studio 2, and that final legendary performance atop the roof of Apple's London HQ.
As a snapshot of a career's output, it's clearly not comprehensive and is more akin to listening through the Red and Blue compilation albums. Yet, as an entertainment experience, it's so much more. For a Beatles geek, the archive material is a joy, and testament to the efforts not just of Harmonix, but predominantly Giles Martin, son of Beatles producer Sir George, whose fastidious efforts in picking through the original masters has facilitated the inclusion of rare studio outtakes.
Become a Eurogamer subscriber and get your first month for £1
Get your first month for £1 (normally £3.99) when you buy a Standard Eurogamer subscription. Enjoy ad-free browsing, merch discounts, our monthly letter from the editor, and show your support with a supporter-exclusive comment flair!