Don't Starve plushy triples its Kickstarter goal in a day
Chester toy was successfully funded in 90 minutes.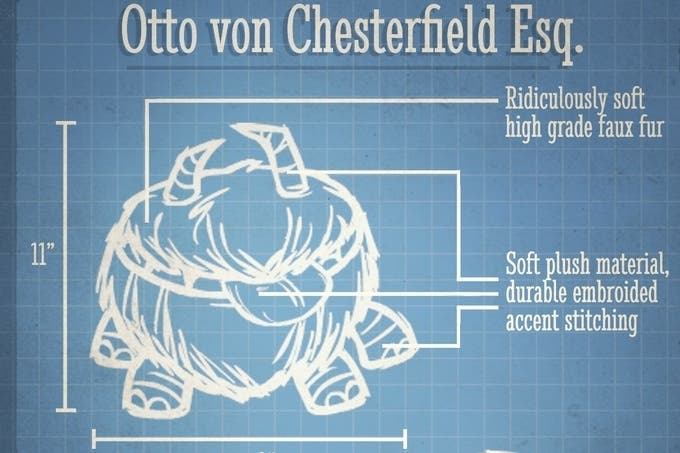 Yesterday Klei Entertainment and toy manufacturer ESC-Toy launched a Kickstarter campaign to mass produce plushies of the game's lovable pack mule-esque monster Chester. The campaign met its $15K goal in less than an hour and a half.
Now it's more than tripled its initial goal with a whopping $47,710 raised and 31 days left before its 27th December deadline.
The Chester plush replica is 11" tall, 9" wide and comes with his 8" "eyebone" that fits in his mouth.
ESC-Toy has already created a high-quality prototype of the Chester plushy, but it needed to ensure there was enough demand to justify mass producing them. "In order to release this for everyone, we need to purchase at a large enough quantity in order to keep the price reasonable," the manufacturer wrote on the Kickstarter page.
In addition to the regular Chester plushy, a limited edition Shadow Chester (i.e. Chester, with darker fur) was developed for backers pledging $150, yet all 100 of these have been claimed. On the plus side, the campaign hit its $25K stretch goal, meaning that Shadow Chester will be added to the game and will bring an extra three inventory slots with him.
This isn't the first time ESC-Toy has manufactured toys based on Don't Starve. The company also created vinyl "blind box" collectibles of a dozen characters and 14 random accessories.
If you'd like a Chester plushy, they cost $50 to reserve on the Kickstarter page. Given the wild success of this campaign, one can't help but wonder what other crowdfunded game-related toys will come next. There's clearly a market for it anyway.