Invisible, Inc. is brilliant, and free on Steam this weekend
Plus Don't Starve, Mark of the Ninja, all Klei's other games.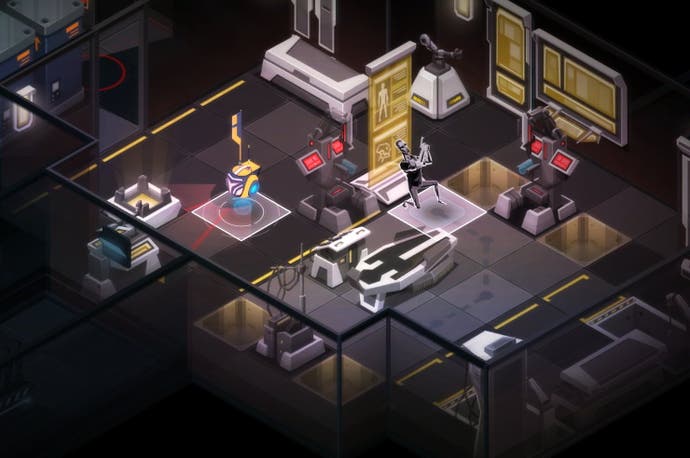 As if there wasn't enough gaming to do this weekend - Fallout 4, Rise of the Tomb Raider, StarCraft 2: Legacy of the Void, Star Wars Battlefront on EA Access, all those Xbox 360 classics hitting Xbox One backwards compatibility (I'm downloading Pac-Man: Championship Edition and Might & Magic: Clash of Heroes, officially two of the greatest games ever made, as I type) - talented Vancouver indie Klei is celebrating its 10th anniversary by making its entire catalogue free on Steam for the weekend.
That includes its most recent game, the turn-based spy caper Invisible, Inc., which has just this week received its first expansion Contingency Plan. Invisible, Inc. is an absolutely superb game of tactical infiltration that boasts nail-biting procedural scenarios and an exquisite balance worthy of Advance Wars. (Yes, I did just invoke Advance Wars.) It's neck-and-neck with The Witcher 3 as my most played, most favourite game this year. It'll play just fine on most laptops and PCs and you owe it to yourself to try it.
Invisible, Inc. is my first Klei game, so I'll be using the weekend to sample the developer's back catalogue, especially its hugely popular Gothic survival sim Don't Starve and stealth action game Mark of the Ninja. Both were loved by critics, including our own Dan Whitehead.
Also free to play until 9pm UK time on Sunday: Don't Starve Together, the multiplayer expansion of that game currently in Early Access; brawlers Shank and Shank 2; puzzle game Eets Munchies; and Crypt of the NecroDancer, a "hardcore roguelike rhythm game" I had never previously heard of, published by Klei and developed by Brace Yourself Games.
As is the way of free Steam weekends, there's an accompanying sale, offering 40% off Invisible, Inc. and its expansion, Don't Starve and Mark of the Ninja for under £3 apiece, and the three biggest games plus all their extras for £22.49. The sale stays open until 6pm on Monday.
Happy birthday, Klei! You're one of the good guys.