Disney Infinity's starter pack will cost $75
UPDATE: UK pricing, release date revealed.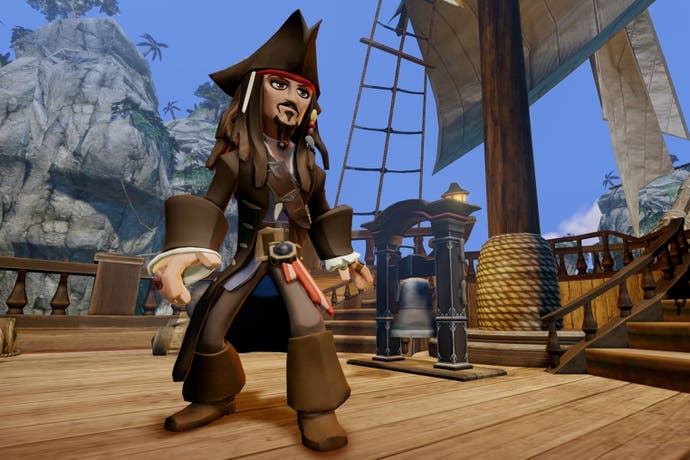 UPDATE 2: As spotted by Eurogamer reader castertroy, Toys R Us has a good deal on the Disney Infinity Starter Packs. There the price for all versions is £49.99 - £15 cheaper than at GAME.
UPDATE 1: UK pricing for Disney Infinity has been revealed.
The Disney Infinity Starter Pack on PlayStation 3, Xbox 360 and Wii U costs £64.99. On Nintendo 3DS and Nintendo Wii it costs £54.99.
The Disney Infinity Starter Pack includes a copy of the game, the Infinity base, three Infinity figures (Mr. Incredible, Jack Sparrow and Sulley), three Infinity Play Sets (Monsters University, Pirates of the Caribbean and The Incredibles) and an Infinity Power Disc. You also get some codes to unlock content online and on your mobile.
In the UK Disney Infinity releases on Friday 28th June. Pre-orders are live now.
ORIGINAL STORY: Disney's highly ambitious multi-game project Disney Infinity has been priced at $75 for the starter pack. This includes the core game, a reader base where you can place your figures, and three figurines: Captain Jack Sparrow, Sulley, and Mr. Incredible.
Play Set Packs - i.e. games tied to a specific franchise - will be sold at $34.99. It's unclear if these contain multiple Play Sets or just one, nor is it clear if they come with any figures or if you need to buy them separately to gain access to a Play Set. I've reached out to Disney for clarification and will update as I hear back.
Elsewhere, figurines will retail at $29.99 for a three-pack or purchased individually for $12.99. There will be 20 of these available at launch. Power Disc Packs - i.e. discs that fit underneath figurines to give them extra buffs - will retail for $4.99.
Disney Infinity will launch this June on Xbox 360, PS3, Wii U, Wii and 3DS.