This 2TB PS5-compatible SSD is just £204
Update: Now sold out for the second time!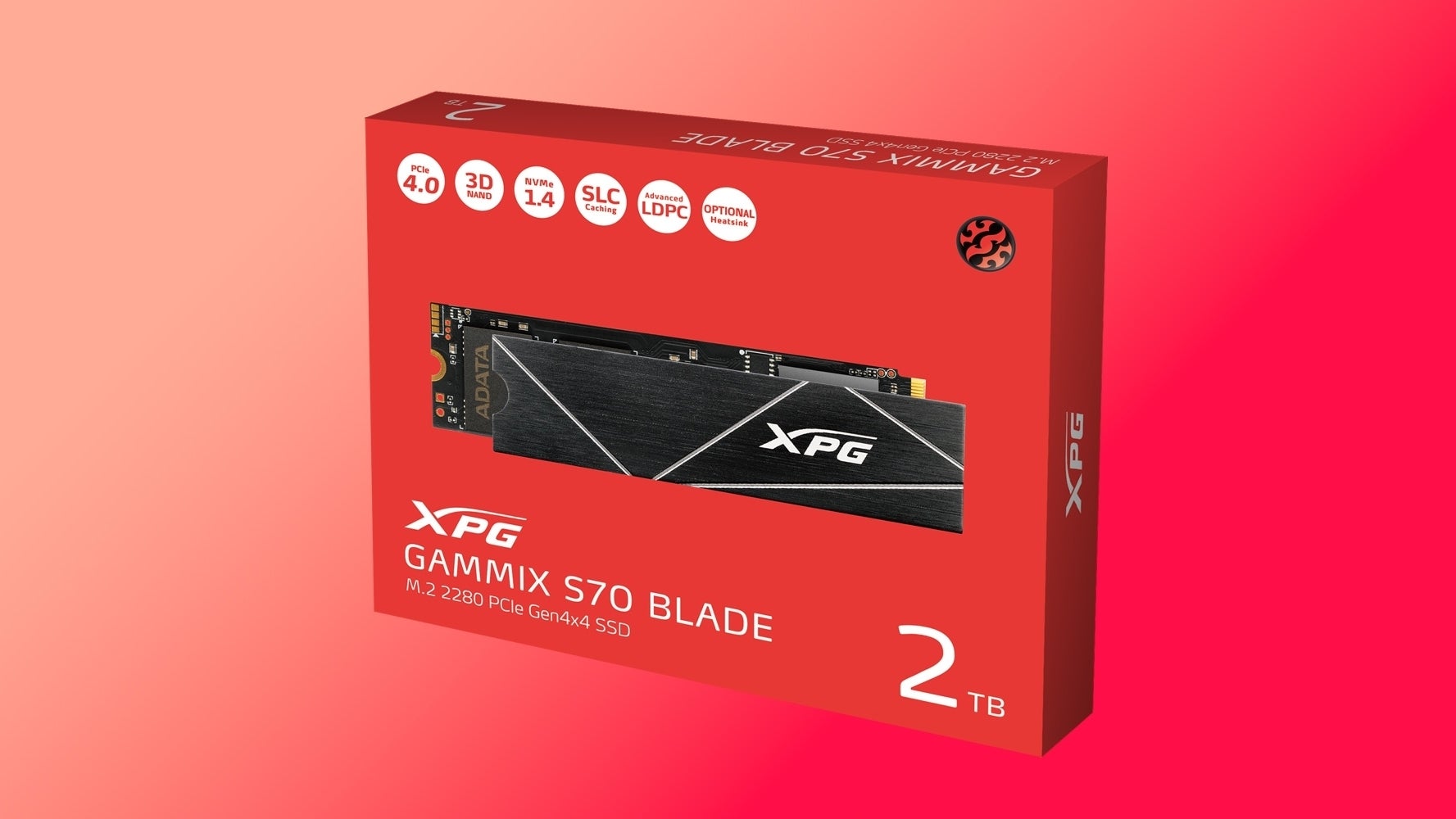 Update (Nov 26): The £204 XPG Blade S70 PS5/PC 2TB SSD returned as an Amazon Lightning Deal, which sold out by 9AM. Original article continues below:
---
The XPG S70 Blade is one of the fastest SSDs on the market - and today, the 2TB model with heatsink has dropped in price from £340 to just £204. That's an incredible deal on a high-speed, high-capacity PCIe 4.0 SSD that works great on both PC and PS5. In fact, it's the best deal on a 2TB PS5-compatible SSD that we've ever seen.
To get the discount, click the link below to visit the product page. Then, tick the 40 percent off voucher listed just below the price, then add the SSD to your basket. You'll see the voucher code is active once you're in the basket, but it won't be until the final stage of the checkout that you'll see the final reduced price of £204. Take a look at the screenshots below to see how this looks on desktop browsers; it's similar on mobile.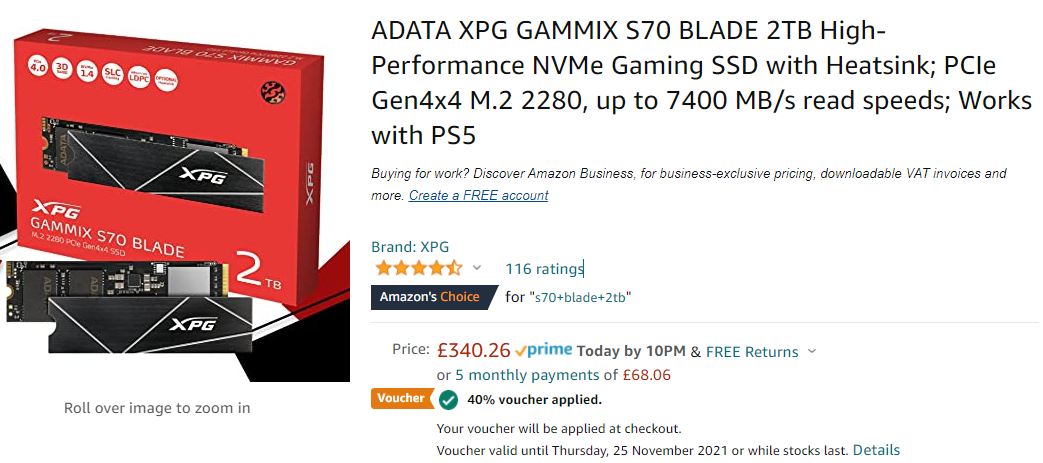 The XPS S70 Blade is made by ADATA, a well-respected maker of high-speed SSDs; if you're into PC gaming or content creation you might have heard of their SX8200 Pro, which has formed the basis of many PCs here at Digital Foundry thanks to its high performance and good value. The S70 Blade is even faster, with read speeds of up to 7400MB/s and write speeds of up to 6400MB/s. That's even faster than popular drives like the WD SN850, and with competitive random I/O speeds you'll get extremely fast game load times. In fact, we measured faster load times from external SSDs than on the PS5's own internal SSD in some games!
Installing the S70 Blade into your PS5 or PC is very straightforward; you'll just need to slide off the PS5's side cover, remove the SSD cover beneath and then insert the SSD into the slot. Secure it with a screw, replace the covers, and you're ready to go. You can see what the process looks like at 2:26 in the video embedded below - but suffice it to say, if you have a Phillips head screwdriver, you're more than capable of performing the upgrade in a couple of minutes.
On PC, it's even more straightforward - locate a PCIe 4.0-compatible M.2 slot on your motherboard, insert the drive and screw it in. Most PC motherboards made in the last couple of years support the higher-speed PCIe 4.0 standard, but these drives will also work at reduced speeds in PCIe 3.0 boards if you're planning an upgrade down the line. On Windows 10 and 11, Microsoft's DirectStorage API should reduce game load times significantly once developers start implementing it, so it's a good future-proofing measure to have a fast PCIe 4.0 2TB drive like this in place!
That's all for now. Stay tuned to @dealsfoundry on Twitter for instant - yes, instant! - notifications as we discover new Black Friday deals or stock of hot items like the PS5, Series X and RTX graphics cards. You can also check out our Black Friday deals hubs for even more deals on PC, PS5 and Xbox paraphernalia.