Upgrade every device you've got with Amazon's massive SanDisk and WD storage sale
5TB external drive for $92, 512GB Micro SD for $88 and more!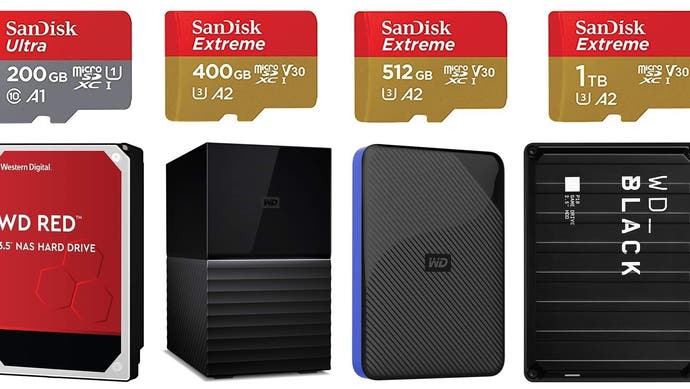 Amazon USA are running a massive sale on WD and SanDisk storage today, including memory cards, hard drives and super-fast SSDs. Here are the discounted products we specially recommend - including a 5TB P10 Game Drive for $92, the best price we've seen for the SN750 NVMe 2TB SSD with heatsink and an amazing deal on massive 1TB Micro SD cards.
Micro SD cards can be useful for a wide range of platforms, including smartphones, cameras and the Nintendo Switch, so let's start there. There are a whole bunch of discounted SanDisk Micro SD cards in today's sale, with the highlight definitely being those massive 512GB and 1TB cards at more than 50 per cent off. Note that there are two types here, SanDisk Ultra and SanDisk Extreme, with Ultra rated up to 100MB/s reads and Extreme rated up to 160MB/s reads.

Here's how it breaks down, with the largest percentage reductions on the 512GB and 1TB models, but the value sweet spot at 400GB where you're paying just 11 cents per gigabyte:
Let's look at some super-fast NVMe SSDs next. The first is one we've tested in-house and were impressed with: the WD Black SN750. There's a massive 2TB model on sale today for just $340, down from a list price of $550. Looking at the sales history, that's the cheapest it's ever been, and considerably lower than the $400 price point it's occupied since Black Friday last year. Read speeds of up to 3400MB/s ensure large files like HD video or zipped downloads can be accessed at extreme speeds, but random I/O performance is also strong which speeds up game load times. This particular model comes with a heatsink too, making it a great choice for smaller or hotter PCs and laptops where that extra heat dissipation is sorely needed to keep the drive operating at peak performance.

More affordable drives also see a discount in today's sale, with a WD Blue SN550 drive costing just $55 for a 500GB model - a very competitive price. Read speeds aren't quite as blistering as the SN750, but at up to 2400MB/s the SN550 is still four times faster than even the best SATA SSD. This is a great low-cost way to make use of your desktop or laptop's NVMe capabilities, and should suit gamers and content creators alike.

Finally for the NVMe SSDs, the P50 Game Drive is a portable drive that connects via USB-C and hits up to 2000MB/s, making it a great choice for adding super-fast storage to your system without the bother of opening it up. The 500GB model has been reduced from $180 to $130, a solid savings of 28 per cent. It'll work on both PCs and games consoles, speeding up load times significantly, although you could get most of the way there using a cheaper external SATA SSD (like this WD 500GB drive for $70).
Of course, traditional spinning disk hard drives are still a great choice when you want to expand your storage space at a very low cost, with slower access speeds but much greater value. For example, the 2TB WD Gaming Drive works with PC, Xbox One and PlayStation 4, and costs just $64 in the sale (down from $90).

The fancier and much larger WD Black P10 is also reduced, costing $92 for a massive 5TB external drive that also works with a range of consoles and PC, all wrapped up in a durable armoured shell. That's down from $150, so you're getting almost 40 per cent off in one of the best deals of the day.
There are more great deals here too - including a massive 12TB external drive for $175 (down from $250), a 10TB internal drive rated for 24/7 NAS operation for $230 (down from $420), another 14TB NAS drive for $400 (down from $530) and a completely ridiculous 20TB external drive for $600 (down from $800)(!).
We could go on for ages, so just check out the full sale and grab a bargain!