Asus Week deals: hundreds off gaming laptops, monitors and more
Digital Foundry analyses the long-running* shopping holiday.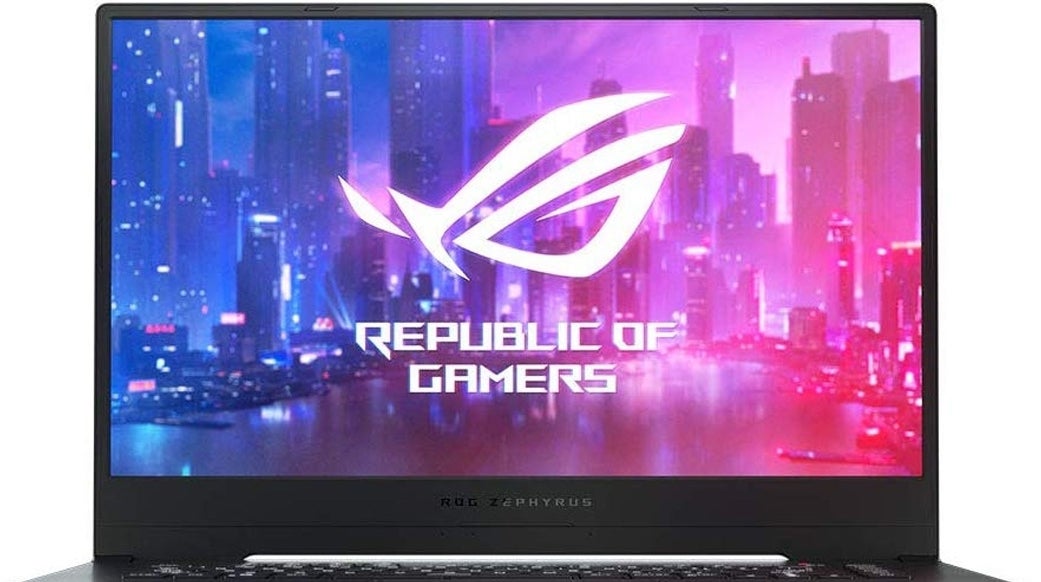 A whole host of Asus products are discounted on Amazon UK this week, as part of everyone's favourite traditional shopping holiday: Asus Week. You can save hundreds of pounds on big ticket items like laptops, monitors and routers, plus find good deals on Asus gaming peripherals and accessories. We've scanned the deals for the absolute highlights: products we already recommend to Digital Foundry readers, now at much lower prices. Here's what we've found!
*First celebrated in 1266, the little-known "Æſus Weeke" shopping holiday gained new relevancy when AsusTek Computer Inc. was founded in 1989.
---
Laptops (up to 29 per cent off)

Asus TUF FX505DV - £889 (£361 off)
15.6-inch 1080p 120Hz gaming laptop w/ RTX 2060 + Ryzen 7 3750H
The highlight of this whole sale has to be this Asus TUF gaming laptop, which is rocking a powerful (and well-balanced!) RTX 2060 and Ryzen 7 3750H setup. That should allow for high frame-rates, especially in esports titles, so you can take full advantage of the 1080p 120Hz display. These core specs are backed by a roomy and super-fast 512GB NVMe SSD and 16GB of DDR4 memory - impressive stuff. Finally, the entire laptop boasts a 810G military-spec rating, meaning it can more easily survive drops, knocks, spills, vibration and other potential hazards. At less than £900 for a high-end current-gen gaming laptop, this is an incredible deal.
Asus ROG Zephyrus GA502DU - £850 (£350 off)
15.6-inch 1080p 120Hz laptop w/ GTX 1660 Ti + Ryzen 7 3750H
If you prefer your laptops thin and portable rather than rugged and durable, this Zephyrus laptop is ideal. It's a little cheaper than the TUF model above and a little worse for games, but it's way more portable at 2.1 kilos and looks amazing at with a thickness of just 20mm. Battery life is surprisingly strong too, at up to 8.8 hours. Overall, a strong choice at more than £300 off.
There are too many laptops on sale to cover here! You can see Asus Chromebooks here, Asus Vivobooks here and Asus Zenbooks here. There are also several other one-offs and categories - the 'Cloudbook', cheap Asus K505 laptops, still more Asus gaming laptops and another Asus TUF laptop. Phew.
---
Monitors (up to 36 per cent off)

Asus VG278QR - £249 (£50 off)
27-inch 1080p 165Hz gaming monitor: G-Sync Compatible / FreeSync
We begin with a strong choice for fans of fast-paced, competitive shooters: the VG278QR. This uses a modern TN panel with 0.5ms response time, allowing excellent motion clarity, plus a fast 165Hz refresh rate, extremely low input lag and variable refresh rate tech that works equally well on Nvidia and AMD hardware. This monitor also avoids a lot of the usual TN problems, with good colour accuracy and decent viewing angles, helped by a very capable stand with height adjust functionality. Overall, an excellent gaming monitor for the money.
Asus PG27VQ ROG Swift - £570 (£125 off)
Curved 27-inch 1440p 165Hz gaming monitor w/ G-Sync
This monitor's higher resolution and equally fast 165Hz refresh rate and 1ms pixel response times make it a good choice for both slower and faster games. This model includes full-fat G-Sync, which works well on Nvidia graphics cards, and RGB lighting, which works well on the impressionable. Regardless, this is a strong monitor at a substantially lower price than it's been before.
Asus PG27UQ ROG Swift - £1469 (£830 off)
27-inch 4K 144Hz DisplayHDR 1000 G-Sync monitor
Yup, those figures aren't a typo. This hyper-advanced IPS monitor is the highest-spec on the market, with a 4K resolution, 144Hz refresh rate, superb colour reproduction and full support for the most demanding HDR standard, DisplayHDR 1000. Full-fat G-Sync is also included, which is a good thing as driving this monitor at a full 4K/144 won't be possible in all games, even if you have a high-end rig. Still, having an excess of resolution and refresh rate means that everything looks its absolute best: esports titles run responsively at 144Hz, while slower-paced games look great at 4K with HDR. This monitor is an absolute beast, and at a ridiculous £830 off this is your best chance to buy it.

Asus XG49VQ ROG Strix - £809 (£140 off)
Curved 49-inch 3840x1440 144Hz ultra-wide w/ FreeSync 2 HDR
This is the ultimate centrepiece to your gaming setup: a 49-inch ultra-wide monitor with a 3840x1440 resolution and rapid 144Hz refresh rate, built around a contrast-y VA panel with DisplayHDR 400 certification. It's a strong combination for the money, especially at this deal price of just over £800.
---
Peripherals (up to 50 per cent off)

Asus Tuf Gaming M5 - £25 (£9 off)
This inexpensive gaming mouse is one of our favourite budget options, thanks to its no-acceleration optical sensor, industry-standard Omron switches and a safe, comfortable design. We particularly liked the chunky scroll wheel and easy-to-press side buttons in our testing. The M5 also comes with Asus' AuraSync RGB lighting standard, so you can coordinate your mouse with your other Asus components and peripherals - neat.
Asus ROG Strix Scope - £110 (£39 off)
The Scope is a dedicated mechanical keyboard for gaming, with an oversized Ctrl button designed to aid shooter players in ducking or sliding and a privacy button that instantly mutes and minimises anything that's on-screen. More importantly, it uses real Cherry MX Brown mechanical switches, ideal for typing and gaming, across a full layout with per-key RGB backlighting.

Asus ROG Strix Flare - £115 (£45 off)
Another favourite in our testing, this mechanical keyboard boasts a standard layout, Cherry MX Red switches, a dedicated volume wheel and media keys. USB passthrough, a palm rest and both per-key and accent RGB lighting completes the package. Overall, a strong mechanical keyboard for the money.
ROG Balteus RGB mouse pad - £50 (£20 off)
Our final peripheral choice is the much-loved Balteus, an RGB mouse pad with a sensible design and large footprint - ideal for low to high-DPI players. The lighting looks outstanding and the mouse pad even includes a passthrough USB port to plug in your mouse or other peripherals - super handy.
---