Death Stranding gameplay footage shows urination, invisible breastfeeding, Geoff Keighley
Taking the piss.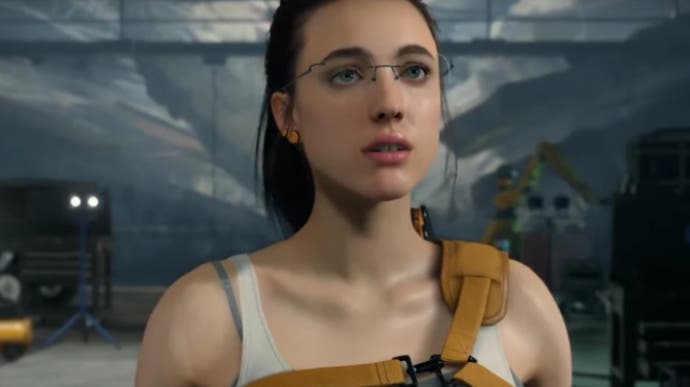 Over 10 minutes of new Death Stranding footage closed out Geoff Keighley's Gamescom livestream, with the usual mix of bizarre Hideo Kojima fare.
First, a character trailer for "Mama", played by The Leftovers actress Margaret Qualley. In this, we discover Qualley's character is "Mama" to a baby from "the other side". It's invisible, so you don't see it breastfeeding through her clothes.
Next up, a trailer for "Bridge Baby" and "Dead Man", the latter of which is the character played by Kojima pal Guillermo Del Toro. In this, there's some heavy exposition for what the babies glimpsed in the game are used for - although after the clip played, Kojima and his interpreter then spent further time laying it all out. Maybe the full game will make more sense.
Lastly, a chunk of actual gameplay footage, where we see main character Sam - AKA Norman Reedus - doing his rounds as a sci-fi Deliveroo driver. He can take a piss and it grows a mushroom. He can also do a job for a character with the face of Geoff Keighley.
After that clip aired, Keighley expressed delight at being included - his face was scanned some time ago, he said. Kojima also made clear you won't be able to rotate the camera to see Reedus' penis.
Death Stranding launches 8th November on PS4, and sometime thereafter on PC.