Cyberpunk 2077 gameplay has already leaked on the internet
Trailblazer.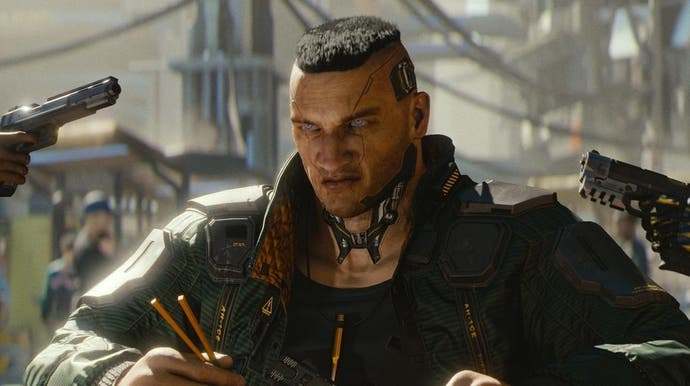 We're still several weeks out from Cyberpunk 2077's new release date of 10th December, but it seems someone has already managed to get their hands on a copy, as 20 minutes of gameplay has spilled onto the internet.
While I can't say the stream itself is of brilliant quality - the two people talking over the footage seem like they've been smoking something, to be honest - but it does give you an idea of what the start of Cyberpunk 2077 will look like. The streamers rush through the character creation features, help a mechanic fix his car, talk to a sheriff and then head out into the wastelands surrounding Night City to fix a radio tower. Riveting stuff.
It looks like the whole thing was played on a PS4, although it's hard to definitively say whether the game was played on a base PS4 or PS4 Pro, as the feed isn't of particularly good quality. If you want to watch the whole thing, you can find a host of mirror videos on ResetEra - but frankly I'd recommend turning the audio off, or simply waiting a few more weeks to experience it for yourself.
Cyberpunk 2077, of course, was at one point due to release on 19th November, but it was delayed once again to 10th December to allow the devs more time to work on the Xbox One and PS4 versions. Those changes are arriving in the form of a launch day patch, meaning boxed versions are already in warehouses (and at least one has already been spotted in storage), perhaps explaining why gameplay has started to leak.
The recent delay to Cyberpunk 2077 once again raised concerns about overwork at CD Projekt Red, with no mention of crunch in the initial delay announcement. Making matters worse, joint CEO Adam Kiciński had to apologise after then describing Cyberpunk 2077's crunch as "not that bad". When the game eventually does release, I imagine it's going to be dramatic - in one way or another.