Company of Heroes 2 pre-order bonuses and Collector's Edition revealed
New skins, beta access, Command Pass.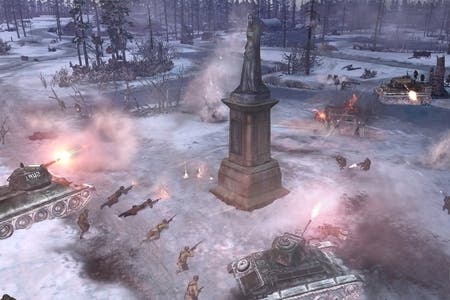 Company of Heroes 2 publisher THQ has revealed a series of pre-order incentives for Relic's upcoming PC real-time strategy game due early next year.
Pre-orders from participating retailers will receive the German Rotbraun and Soviet Leningrad skins for medium-sized vehicles, while selected retailers also offer closed beta access.
Steam pre-orders will be enrolled into the exclusive Pre-Purchase Tiered Reward Program, granting unlocks for Team Fortress 2 and Warhammer 40,000: Dawn of War Retribution.
Those who pre-order on Origin receive all the global pre-order incentives along with an exclusive Soviet Bryansk Front vehicle skin for heavy units.
Finally, those pre-ordering directly through THQ's storefront receive the same goodies as retailers along with the Command Pass, which grants access to bonus multiplayer maps and exclusive member's only events. The Command Pass will be available for purchase post-launch as well.
A Digital Collector's Edition is also available for $99.99 that includes the Command Pass, exclusive German Whitewash and Soviet Winter Cobblestone tank skins, a Veteran badge to display on the player's in-game profile, access to the first three single-player DLC packs as they become available, and the original Company of Heroes along with both its expansions.