Rogue-like co-op shooter Risk of Rain 2 coming to consoles today
That's Xbox One, PS4, and Switch.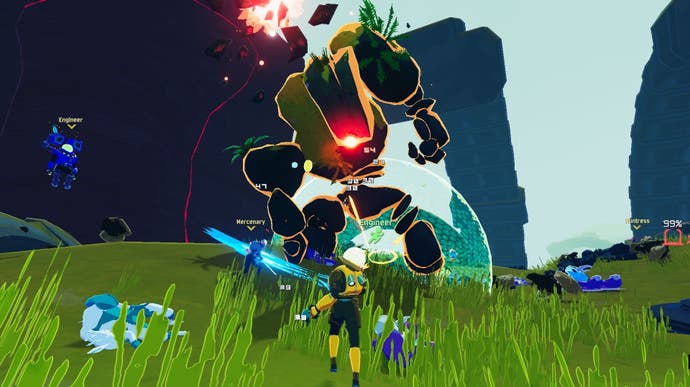 Following Hopoo Games' surprise PC launch of Risk of Rain 2 in March, the developer has decided to do it all over again, this time surprise-launching its co-operative rogue-like shooter sequel on PlayStation 4, Xbox One, and Switch.
If you need a quick refresher, the original Risk of Rain was a wonderfully frantic side-on action-platformer that armed players to the teeth and slapped them down on an alien planet. With every passing moment, enemies grew tougher and more plentiful, forcing players to hang on for dear life while all around devolved into an increasingly hilarious ballet of bullets and chaos.
Risk of Rain 2 doesn't deviate too far from that basic formula, but it does recast the whole fraught affair in full-3D, with both solo players and teams of up to four able to tackle its randomised stages, items, enemies, and bosses - all of which have been steadily increasing in number throughout the PC version's early access development.
It would, of course, be remiss not to mention that Risk of Rain 2 is still in early access on Steam, and is expected to remain so until at least "spring" next year. That means Switch, PlayStation 4, and Xbox One owners are currently being offered the chance to purchase a game that, while already enormously enjoyable, is still far from complete.
Publisher Gearbox says that the version of Risk of Rain 2 launching on consoles will feature all content added during early access up to June's Scorched Acres update. According to Hopoo's development roadmap (below), three more updates are expected to hit PC prior to next year's "1.0" release, adding the likes of new stages, survivors, items and equipment, bosses, polish and more. Gearbox says these updates will be coming to consoles too.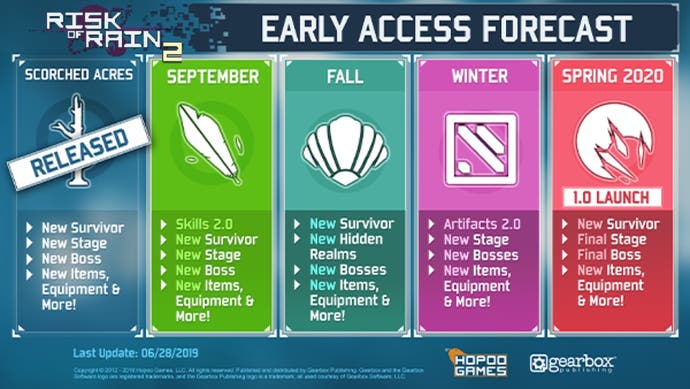 When Risk of Rain 2 arrives on Switch's eShop and the PlayStation and Xbox stores, it'll cost $29.99 USD (around £25). The early access PC version costs £14.99/$19.99 USD on Steam, but that'll rise to match the console price when 1.0 arrives next year.