Risk of Rain 2's version 1.0 gets a proper August release date on Steam
Launch adding new character, stage, and more.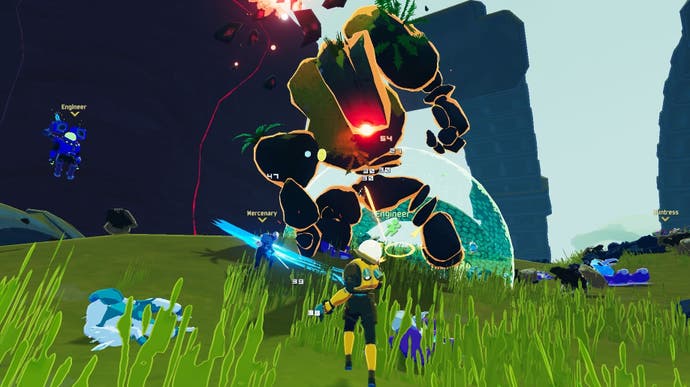 After close to 18 months in early access development, Hopoo Games' co-operative rogue-like shooter sequel Risk of Rain 2 will be getting its full version 1.0 Steam release on 11th August.
Risk of Rain 2 entered Steam early access back in March last year (it's since made its way to Xbox One, PS4, and Switch), and was initially expected to get its full launch this spring. However, Hopoo made the decision to delay release by several months - the first deviation from its roadmap since early access began - after the community helped it flag "quite a few areas of improvement we could work on".
It would appear Hopoo is now satisfied with Risk of Rain 2's progress, and August's version 1.0 update will bring a heap of additional content for launch day, including story cutscenes, a new survivor known as The Captain, the final stage and its boss, a new server browser, and more.
Breaking that down a little further, The Captain is Risk of Rain 2's tenth playable character (and was selected in a community vote), and comes armed with a shotgun-rifle that narrows its spread as it charges and has the ability to stun targets. He's also able to request probes and beacons from orbit, which can provide armour or a healing zone for use by all players.
As for Risk of Rain 2's final stage, that's the moon, which comes with its own lunar monsters and a final boss. Hopoo also promises new items, including the magma-ball-spewing Molten Perforator, and new survivor skill variants that can be unlocked by completing challenges.
Rounding things off, then, is the new server browser. This is intended to improve Risk of Rain 2's multiplayer matchmaking, and will enable players to create or join their own dedicated servers, with customisable options including difficulty, rule voting, and password protection.
Come 11th August and the launch of version 1.0, Risk of Rain 2's price will increase to $24.99 USD (around £20) on Steam, but there's still a couple of weeks to pick it up at its current price of £14.99/$19.99. Hopoo says it'll have more news concerning version 1.0 on consoles "in the future", but that it "should follow a very similar cadence" to previous updates.