Risk of Rain 2 leaving early access in August
Delayed to deliver a "truly a complete game experience".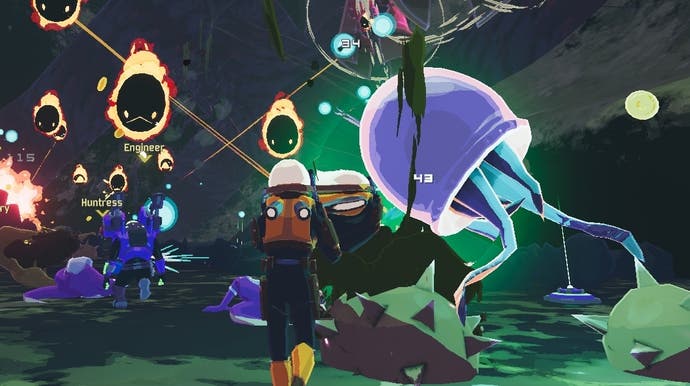 Developer Hopoo Games' enormously well-received rogue-like co-op shooter sequel, Risk of Rain 2, will be leaving Steam early access and launching in its Version 1.0 guise this August.
Risk of Rain 2 entered Steam early access in March last year (it has found its way onto Xbox One, PS4, and Switch since then), and was initially expected to hit Version 1.0 this spring. However, as it explains in a new blog post, Hopoo made the decision to revise that release window after it sent out a tweet asking the community what it hoped to see addressed in 1.0 and discovered "quite a few areas of improvement we could work on".
Hopoo says moving Version 1.0's launch from spring to August - the first deviation from its roadmap since early access began - will enable it to "make sure RoR2 1.0 [is] truly a complete game experience, and that means not only completing and fleshing out content, but improving and iterating on old features and content that's been left behind."
One newly revealed feature heading to Risk of Rain 2 in a future update is a built-in Server Browser, designed to address issues relating to online play by providing easy access to peer-to-peer matches as well as those created using a Dedicated Server Tool. The goal, says Hopoo, is to help players more easily find a match with the settings they want.
"While we still don't have host migration," the developer wrote, "the hope is that if everyone is playing in a lobby with settings they like, people won't be quitting for ping, difficulty, or any other fixable reasons. We're also hoping that a built-in server browser can breathe some life into community-hosted Dedicated Servers."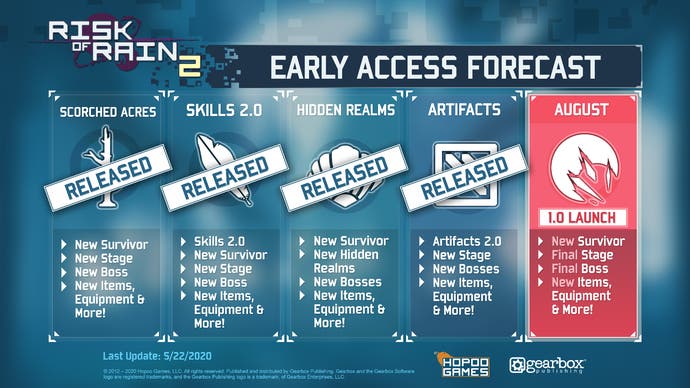 Hopoo notes its June update for consoles will still arrive on schedule (introducing the likes of Artifacts 2.0 which came to PC earlier this year), but says Version 1.0's move out of spring on PC will shift the timeline for full release on consoles too.