China bans sale of Animal Crossing: New Horizons after it becomes a haven for Hong Kong protesters
Shelf life.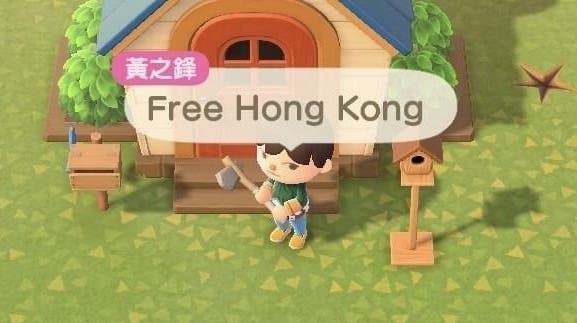 China is taking on Animal Crossing: New Horizons, blocking its sale on the country's version of ebay.
The Chinese authorities have yet to approve the phenomenally popular Nintendo Switch exclusive for official release, so fans were importing directly from ebay-style websites such as Taobao and Pinduoduo, or buying it digitally by switching their Switch eShop region.
Now, Taobao and Pinduoduo have pulled the game at the request of the Chinese authorities. But why? According to Daniel Ahmad, a senior analyst at Niko Partners who specialises in the Asian video game industry, it's down to two things: Animal Crossing is being used by Hong Kong protesters and others to create politically sensitive user-generated content, and it's a smash hit on social media.
As reported by our friends at US Gamer, Animal Crossing: New Horizons is fast becoming a new way for Hong Kong protesters to fight for democracy amid the Coronavirus lockdown.
Under Chinese law, video games can't contain anything that "threatens China's national unity, sovereignty, or territorial integrity". They can't harm "the nation's reputation, security or interests". They can't promote cults, or "superstitions". They can't "incite obscenity, drug use, violence or gambling" - although loot boxes are, of course, fine - and they can't include anything that "harms public ethics" or China's "culture and traditions". They also can't include any "other content" that might violate China's constitution or law, whatever that may be, and they have to be published in China by a Chinese company.
Despite forcing some online retailers to pull Animal Crossing: New Horizons from their virtual shelves, the Chinese authorities face an uphill struggle banning the game completely. As Ahmad points out, Animal Crossing still works offline and online in China, and it's still available to buy, either from certain stores, or via switching region on the eShop. And people can always contact Taobao sellers privately and buy the game under the counter.
Animal Crossing: New Horizons is a remarkable hit globally, and it seems Chinese gamers are determined to play it. That comes as no surprise, given they've been playing unapproved video games for years. For more on that, check out Chris Tapsell's wonderful investigative feature, Video games in China: beyond the great firewall.