Call of Duty: Warzone makes loadout drops a little pricier
Overbill.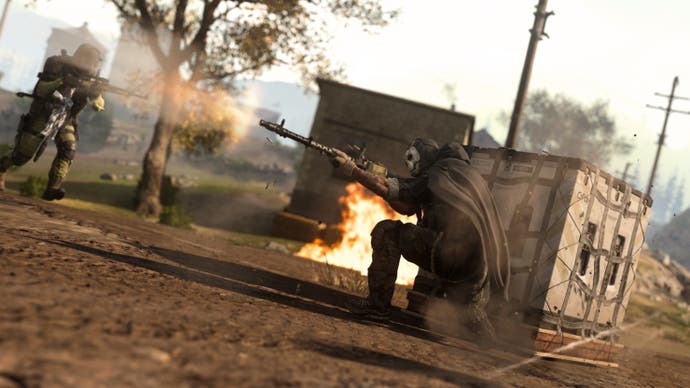 The first big update for Call of Duty: Warzone is here, and along with adding the new weapons announced earlier this week, the update has made some noteworthy balance changes. Namely, those loadout drops are a little more expensive.
As detailed in the patch notes, the price of loadout drops is being bumped up from $6000 to $8500. It's not a massive increase, but should require your squad to scrounge around a little longer for the necessary funds.
Loadout drops have previously been criticised for being too easy to attain: not only do they drop regularly in-game, but the original buy price was rather cheap. As the loadout drops allow veteran Modern Warfare players to bring over their loadouts from months of grinding multiplayer, it also felt a little harsh on new Warzone players. There's also an argument that RNG loot is a necessary component of the battle royale experience, prompting players to adapt and survive based on what they find - while the loadout drops made every round very similar, with players simply picking their favourite guns over and over. Hopefully the price increase should make loadout drops feel more like a high-tier reward rather than a necessity, although it seems one drop can still be used by the entire squad.
In other good news, players you've downed will now count as a kill should they disconnect from the game - preventing any rage quitters from ruining your kill count. Shotguns have also been nerfed to prevent a single blast from downing a fully-armoured player, although this can still be achieved with stopping power rounds. Along with a bunch of other bug fixes, that annoying gas mask animation has been partially fixed - meaning players will no longer be interrupted when deploying a parachute. If they could just prevent that animation from blocking my ability to shoot in final circles, that would be great.
Along with the Warzone battle royale changes, the update introduces new additions to multiplayer: there's a new Coalition operator called Talon, new map Khandor Hideout, another Warzone mode called Plunder: Blood Money which guarantees cash drops on kills, and a new night mode called Infected in the Dark. This one sees players run around in the dark with a thermal sight and limited battery, while the infected have full vision. That one feels a little close to home right now.