Beautiful "cosy game about dying" Spiritfarer gets a surprise release today
Out now on Xbox One, PS4, Switch, and PC.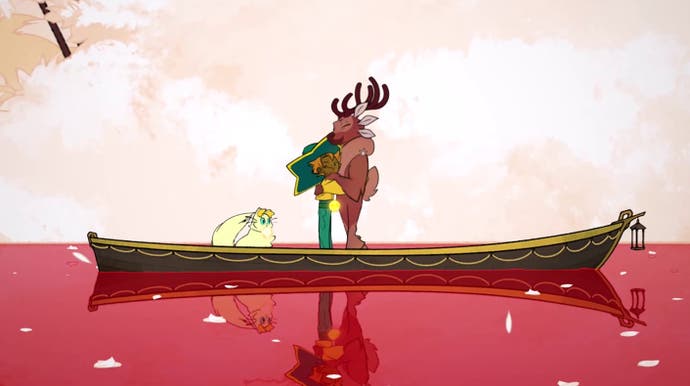 If you've been eagerly awaiting word on Spiritfarer, Thunder Lotus' "cosy game about dying", today brings a happy surprise; it's out right now on PC, PS4, Switch, and Xbox One.
Spiritfarer has quite an unusual premise, casting players as Stella, a "ferrymaster to the deceased", who builds a boat to roam a mystical ocean and escort animal spirits toward the afterlife. "Spend relaxing quality time with your spirit passengers," says Thunder Lotus, "create lasting memories, and, ultimately, learn how to say goodbye to your cherished friends."
The end result is a genteel experience melding the likes of conflict-free platforming, farming, fishing, cooking, mining, crafting, and more. It can even be played co-operatively with a friend, who's able to assist in the adventure as Daffodil the cat.
And as you might expect from Thunder Lotus Games, the developer responsible for the striking likes of Jotun and Sundered, it's all presented beautifully too, with wonderful music, art, and animation all helping breathe life into its delicate world.
Eurogamer contributor Malindy Hetfeld has already given Spiritfarer the review treatment on this very site, if you're wondering if it's worth your time, slapping it with a Recommended award and an emphatic 'yes'. "Your friends' last moments are truly something special," she wrote, "It doesn't feel as if you've just successfully finished a portion of a game...I had to suspend my disbelief at bonds of such strength growing from what little I got to learn of each character, but with just a few lines, Spiritfarer regularly left me in tears.
Hugs will be available from today as Spiritfarer arrives on Steam, Stadia, the Epic Store, GOG, Switch, Xbox One, and PS4. It can also be played via Game Pass for PC and Xbox One.