Assassin's Creed Origins hunting, underwater, night gameplay demoed in hour of footage
Looks decent, Giza.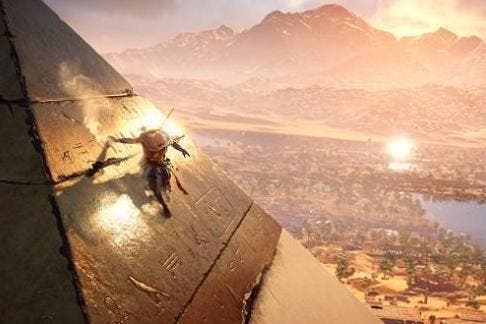 We've already posted our own hands-on impressions of the impressive-looking Assassin's Creed Origins from E3 last week, but now we're back and seeing others upload videos of their own adventures.
The demo we saw had a fairly straightforward mission to complete, along with a separate arena activity to try. Still, other folk at E3 decided to wander away from the mission bounds - and see more of Origins' open world.
I snuck a glimpse at the portion of Origins' unlocked for Ubisoft's E3 demo - it was just a tiny fragment of the game's overall, vast world. (Think Zelda: Breath of the Wild's opening Plateau area, versus the rest of the game.) The videos below are just from this.
First up, half an hour of gameplay showing off some open world exploration, including enemy encampments and forts. Animals spotted: lions, hippos and flamingos.
Next up, a look at how you can set the game's world to spin forward to night-time (or vice versa) and how the Origins' world looks after dusk:
Some more underwater exploration, showing off the kinds of treasure looting and shipwrecks to be found underneath the waves:
Finally, here's the mission we played - although I can say I was a lot, lot less stealthy in taking out the guards on the ship. By creating a fire (using arrows whose tips have been set ablaze from a nearby burning torch) you can ignite the barrels of oil carelessly left on deck, creating what looks like an unfortunate accident.
As stated, we were impressed by what we played of Assassin's Creed Origins at E3. We'll have more on Origins later in the week.