A new generation: a new price-point for games
"The market will determine what's appropriate over time."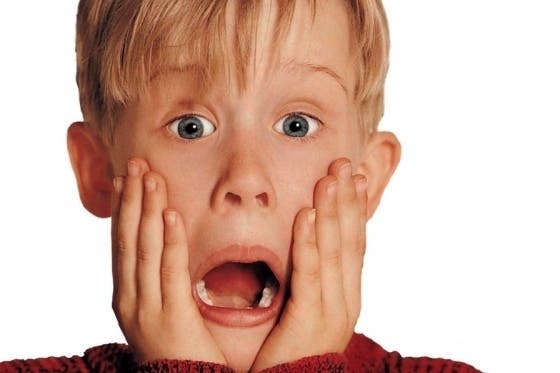 As it stands, Sony's games are more expensive on PlayStation 4 than Microsoft's are on Xbox One.
First-party Xbox One games, like Xbox 360 games, will stick with a recommended retail price of £49.99, Microsoft told me.
Sony's Killzone: Shadow Fall, on the other hand, has an RRP of £59.99 (confirmed in the Ultimate PS4 FAQ), and Knack costs RRP £54.99 (verified with a reliable UK retail source).
On PS3, Sony's first-party games, such as The Last of Us, typically carried an RRP of £49.99.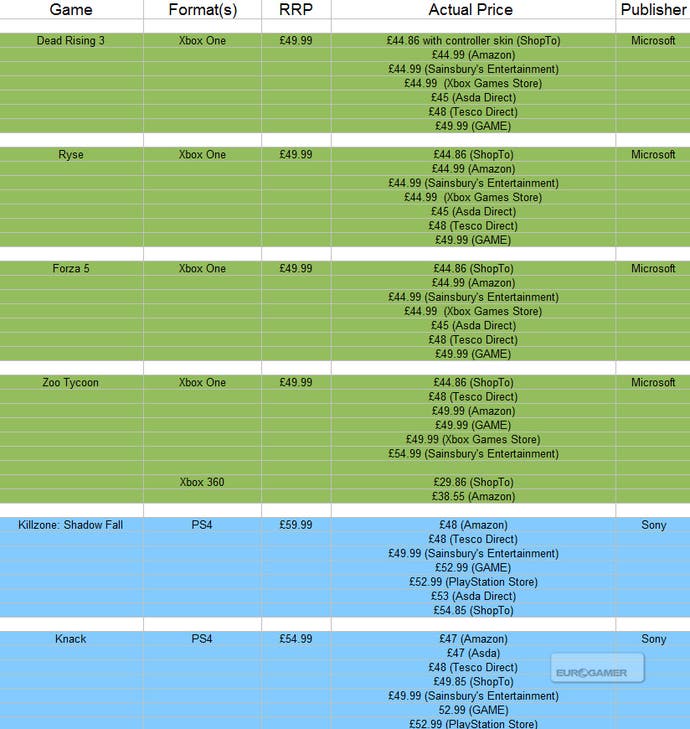 Apply a retail filter to the new prices and the difference ends up negligible, though still visible. Killzone: Shadow Fall prices go as low as £48 at shops, whereas Microsoft's Xbox One games can be picked up for £45.
Online the difference is larger. Microsoft's Xbox One games cost £44.99 from the Xbox Games Store whereas Sony's PS4 games cost £52.99 from the PlayStation Store.
Fergal Gara, managing director of PlayStation in the UK, acknowledged these discrepancies and rising costs in an interview with Eurogamer.
"There's a huge investment gone into pioneering these games for the first time for these new platforms," he said. "We believe the quality of the games is reflective of the price, and those games have to sit alongside some tremendously strong content from other publishers. There's choice there. So the first-party games have to compete and have to be priced appropriately.
"We're effectively into a new market," he added. "Pricing is where it is today, and the market will determine what's appropriate over time. Yes, they are up a little bit, reflecting the premium nature of those games and the development effort that's gone into them. But the market will dictate what the right pricing is over time."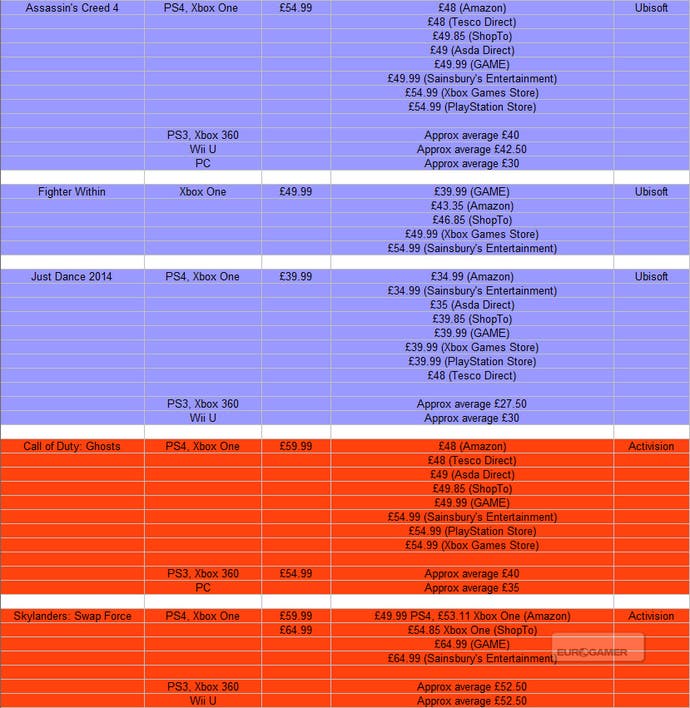 In other words, pricing could come down.
"Too early to say," responded Gara. "Retailers set their own prices. They are typically rather competitive here in the UK. At the same time they all want to make a bit more margin, so that might mean prices stay a little bit higher for a premium experience."
The UK retailer I spoke with suggested Killzone: Shadow Fall was "overpriced" to give the PS4 bundle it's sold with "a perception of better value". That person believed PS4 game pricing will settle at a Knack level - at RRP £54.99.
Sony isn't the only publisher raising its game prices for PS4 and Xbox One: most publishers are charging shops roughly a price-point (up to a fiver) more for their next-gen games.
I compared prices at six leading retailers - GAME, Amazon, ShopTo, Tesco Direct, Sainsbury's Entertainment and Asda Direct - as well as the Xbox Games Store and PlayStation Store, to illustrate what this means for you.
It's not an exact science and behind the scenes there are myriad variables, but the outcome - the price tag you see - is generally the same: PS4 and Xbox One games cost around £10 more.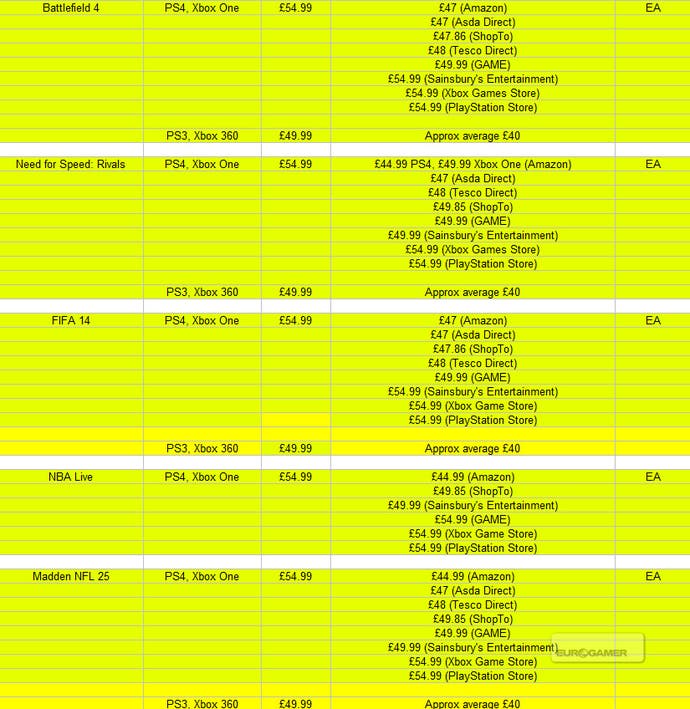 Why? Fergal Gara mentioned rising development costs, and he also mentioned the market will determine what's appropriate over time.
We're at the very start of a new generation and there aren't yet millions of new consoles in people's homes. Margins need to be tighter during this period, as Gara mentioned, in order for everyone in the gaming industry's food chain to feed. As installed bases go up, bulk production can begin, meaning bulk sales at bulk prices.
Years from now, PS4 and Xbox One games will shrug off their RRPs and probably settle at around £40-45 in shops, just as PS3 and Xbox 360 game prices settled between £35-£40.
Whether the Xbox Games Store and PlayStation Store will follow suit remains to be seen, although Sony and Microsoft will be conscious of not burning bridges by underpricing the retail partners they still rely so heavily on.
The rise in game prices affects rental services such as Boomerang, too, which will "probably" charge a higher subscription for renting PS4 and Xbox One games than PS3 and Xbox 360 games.

"On average, customers are paying us about £11 a month," a Boomerang customer service rep told me. "So if we bring in a new customer and have to bring in a new game to satisfy that customer, for example - if that game's going to cost us £35-£40 or whatever, then it takes us a while to actually recoup that cost. It's tied directly, as with any business, to the cost that we're incurring."
Whether Boomerang will actually raise its subscription fee still hasn't been confirmed, and I can't get hold of anyone to force an answer.
The rise in game prices for people who trade-in games should cancel itself out, as you will presumably receive a little more for the PS4 and Xbox One games you're trading in.
Ultimately, as Gara said, the price games settle at will depend on what the market - you - is prepared to pay. Activision, EA and Ubisoft only got away with raising the price of their blockbuster Call of Duty, FIFA and Assassin's Creed series partway through the PS3 and Xbox 360 generation because people were willing to pay it. It's not as if those series wouldn't have made millions of dollars in profit from their many millions of sales, and their many millions of DLC sales on top of that, without it.
We're not only at the start of a new generation of games, we're at the start of a new generation of business models for console games. Big blockbuster games will cost more to make, yes, but crudely hiking the price-tag need no longer be the only way to remedy that. We'll see. There are interesting times ahead.