£250K Dying Light My Apocalypse Edition includes a house
Really.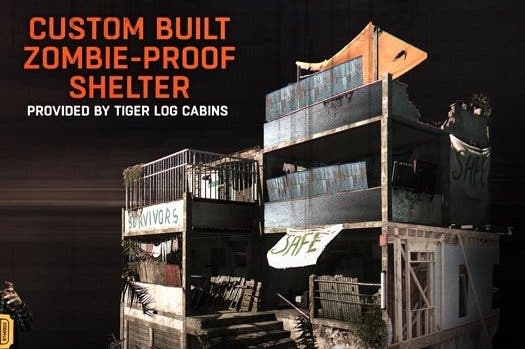 As far as outlandish video game special editions go, it's one of the most expensive we've seen.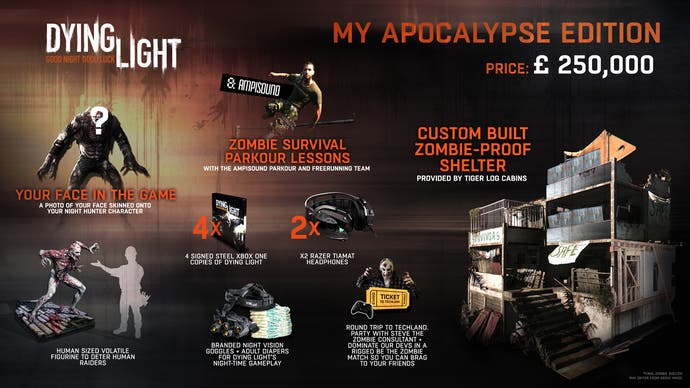 The Poland-based developer of the first Dead Island game has a reputation for eye-rolling PR stunts, and it's cooked up another for its latest zombie punch 'em up, Dying Light.
Dying Light launched as a download in the UK last month, but the disc version was delayed to this Friday.
So, given we'd all forgot a physical version was still coming out, Techland has drummed up the £250,000 Dying Light My Apocalypse Edition, which includes a house.
To be exact, it includes four steelbook copies of the game, professional parkour lessons, "exclusive merchandise" and a custom-built, "zombie apocalypse-proof" house.
It's available to pre-order exclusively from GAME, and is a one-off available for one UK-based crazy person sorry customer. At the time of publication, it was still available.
Here's the official blurb:
"When your life is on the line in an apocalypse, it's best to come prepared. The Dying Light My Apocalypse Collector's Edition lets you do just that. The centerpiece of this one-of-a-kind edition is a fortified zombie apocalypse-proofed house that will be built to order by UK-based Tiger Log Cabins. The house comes fully equipped with all live-in amenities and also includes an upper deck with vantage points and an escape hatch, arsenal storage for weaponry, and of course a living area with TV, Xbox One, and the latest sound system to play Dying Light on.
"The My Apocalypse Collector's Edition will also include zombie survival-focused parkour lessons from Ampisound [maker of the Dying Light Parkour POV video], custom merchandise and additional in-game perks that will let you kill time while the world around you mercilessly falls into zombie anarchy."
What Techland doesn't know, however, is that the more resourceful of us Croydonites have had zombie-proofed houses for years. So there.
There's more. You play a Be The Zombie match with the developers (who will let you win "so you can brag to your friends how 'leet' you are"), a trip to Techland in Poland where you will party with Steve the Zombie Consultant, your face skinned onto your Night Hunter character model, Dying Light-branded night vision goggles and adult nappies, two Razer Tiamat headphones and a human-sized Volatile figurine.
It's a steal at £250,000, really, especially considering property prices these days. Feeling flush?