You have to pre-order Destiny 2 to get one of its exotic weapons at launch
And a stat-tracking Ghost.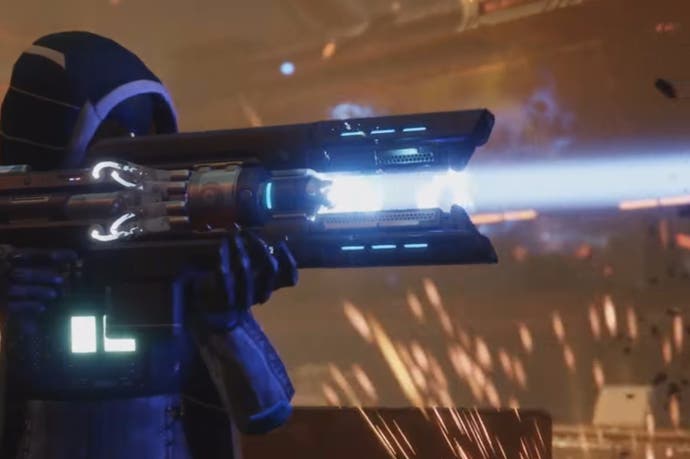 Destiny 2 has, for the first time, saved one of its prized exotic weapons as a timed pre-order exclusive.
You need to put down a pre-order to get the Coldheart exotic trace rifle. Do so, and it will automatically unlock for you when the game comes out in September.
Not a fan of pre-orders? You'll have to wait to get Coldheart - until 5th December. After that time, it will unlock for everyone.
Destiny's exotic weapons are the most coveted items in any Guardian's arsenal. A handful have been timed-exclusives for PlayStation 3 and 4 players in the past, but there has never been a timed-exclusive exotic saved for pre-order customers only.
Coldheart is a cool-looking arc weapon that sits in your second (energy) gun slot. The trace rifle is a brand new weapon type for Destiny 2, making Coldheart even more coveted.
Writing on Twitter, senior gameplay designer Jon Weisnewski described it as "great for single target DPS" [damage per second]:
Coldheart does Arc damage, equipped in your energy slot, great for single target DPS. ❄️👌🏻

— Jon Weisnewski (@sharkeatsman) July 26, 2017
Additionally, there's a stat-tracking Ghost which can show your PVP and PVE kill counts on-screen.
In the UK, GAME says this is only available with a pre-order at one of its shops. But you can also get this if you pre-order digitally via the PlayStation Store (along with a Salute emote and PS4 theme).
Destiny 2 reward designer Daniel Auchenpaugh provided a little more detail on the Ghost via Twitter. It tracks your kills when equipped or not, for example.
Glad people are excited about the Kill Tracker ghost; I helped with that thing and I think it is a pretty cool little preorder bonus.

— Daniel Auchenpaugh (@danielOut) July 26, 2017
Destiny 2 is due to launch for PlayStation 4 and Xbox One on 6th September, then for PC on 24th October, and feature an easier turbine section than the one which annoyed us in the Destiny 2 beta.