World War Z gets cross-play on Xbox One and PC, is free on the Epic Store
And there's 75% off through Xbox Live Gold.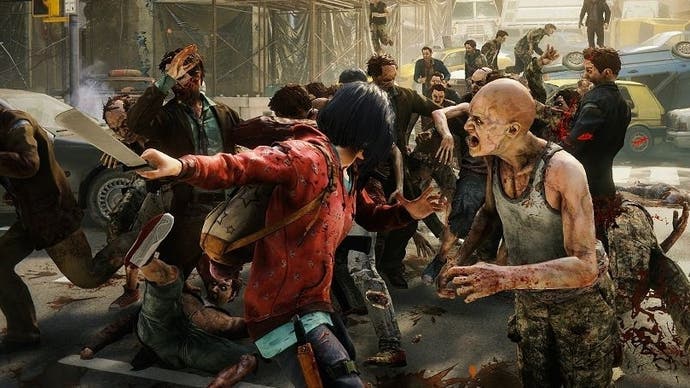 Developer Saber Interactive's enormously popular co-op zombie shooter World War Z now supports cross-platform play between Xbox One and PC, and, to celebrate the occasion, it's free on the Epic Games Store and heavily discounted on Xbox One.
Cross-play, which was initially anticipated to arrive at the end of last year as part of World War Z's second season of free post-launch updates, will enable players using official servers on PC and Xbox One to join forces and tackle PvE missions, as well as its wave-based Horde Mode Z. Saber says that PS4 cross-play support will come "at some point in the future".
That's the big headline feature of today's World War Z update, but there's a little more besides. As outlined in the latest patch notes, there's a new mission objective, requiring players to loot and transport a Virus Sample (which will imbue an increasing number of negative effects on players the longer they hold it) to the end of a stage.
That's accompanied by balancing tweaks to Horde Mode Z, including greater XP and currency rewards and fewer special zombies in normal mode, and five new weapon variants with unique perks, such as a fully automatic machine pistol.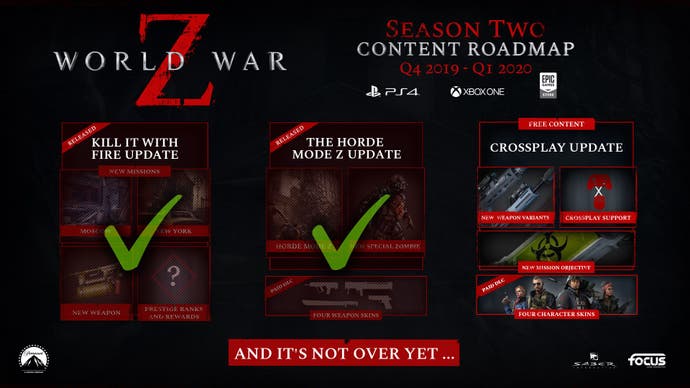 Although today's update marks the end of the currently revealed post-launch content for World War Z's season two, Saber says there's more on the way, including a new location, with three new missions and new characters.
To celebrate all this, World War Z is available to download for free and keep forever on the Epic Games Store until 2nd April, and there's 75% off for those wishing to make a purchase on Xbox One until 30th March, putting the price at £8.74 - although you'll need an Xbox Live Gold subscription to take advantage of the offer.