Warframe's Operation: Scarlet Spear gets new trailer, out next week on PC
Heading to consoles "soon".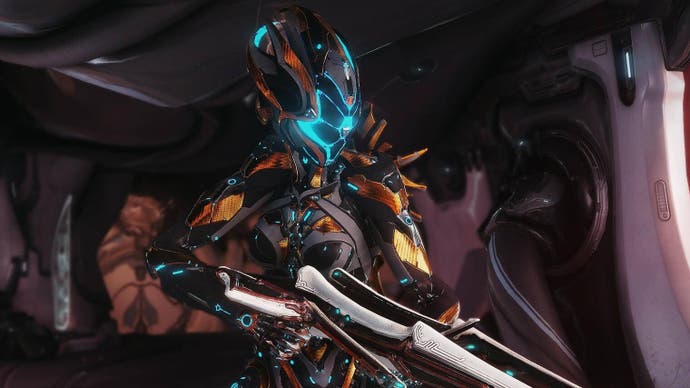 Warframe's latest adventure, Operation: Scarlet Spear, is heading to PC next week, and Digital Extremes has released a fresh clutch of details and a new trailer in preparation.
Operation: Scarlet Spear is part of Warframe's The New War story arc, and requires players to join forces in order to hold back the Sentient invasion. Tenno keen to lend their talents must have a Mastery Rank of 3 or higher and will need to make their way to the Scarlet Spear Flotilla Relay - which serves as the mission's base of operations and can be found orbiting the Earth.
Once inside the relay, Tenno must form squads and prepare to tackle massive Sentient vessels known as the Murex Waves, with one team operating on the ground and a second out in space.
Players participating in the ground assault are tasked with seizing the Kill Code from Sentient Condrix and transmitting it to their allies in the stars using the Operation Link Beacon. Those Tenno with access to a Railjack, meanwhile, can attempt the Murex Raid - requiring them to infiltrate the Sentient vessel, gain control of its Transmission Array, and broadcast the received Kill Code in a bid to cut the enemy ship off from its Armada.
"Expect heavy resistance in both Missions," warns Digital Extremes, "Boarding parties will deploy Anu Mantalysts and Anu Interference Drones to disrupt your Railjack Systems and put a halt to the resistance. Only coordinated Squads can suppress the Sentients' incursion. If you're successful, the Murex Wave will have no choice but to flee."
Completing the operation, either in the air or on the ground, will reward Scarlet Credits, and these can be used to acquire the Basmu Rifle, an Operation-variant Lacera, Arcanes, a Stance Forma Blueprint, and more - as outlined in Digital Extremes' latest post.
Operation: Scarlet Spear is due to arrive on PC next week, and will be making its way to PlayStation 4, Xbox One, and Switch "soon".