See stunning remaster of Warframe's ageing Gas City tileset in new before and after trailer
Due to arrive "soon".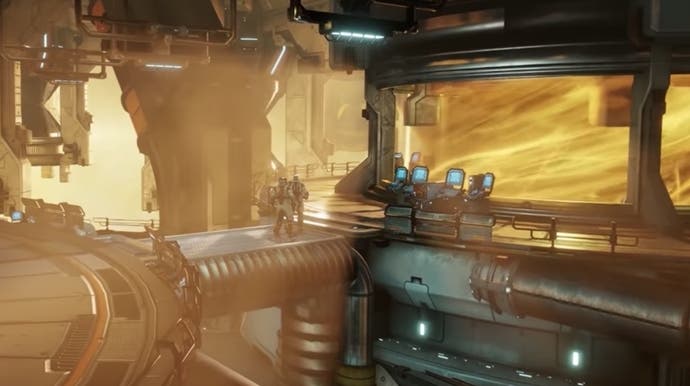 Developer Digital Extremes has offered a brisk, but illuminating, look at Warframe's thoroughly remastered Gas City area, which is set to release in a new update soon.
The Gas City tileset is one of the oldest in Warframe, having been introduced a mere nine months after the game's launch in March 2013.
A lot's happened in Warframe since then, and the Gas City tileset, which is used in a variety of missions across the Jupiter map, has inevitably started to look a little long-in-the-tooth, especially when compared with the game's shinier, more recent additions.
As such, Digital Extremes has opted to give the area a similar remaster treatment to that seen in Warframe's recent Plains of Eidolon overhaul, which freshened the open-world environment up with a new lick of paint, new gameplay features, and a number of quality of life improvements. The equally dramatic Gas City remaster (also known as The Jovian Concord) is "coming soon", and you can get a sense of its extensive, and stunning, visual redesign in the new video below.
Alongside the obvious aesthetic changes, which include more expansive outdoor areas and improved diversity in the tiles used to procedurally assemble each mission level, Warframe's Gas City update will introduce a number of other features. There are new enemies, for instance, a new game mode known as Disruption, the new Wisp Warframe, and more.
You can expect Digital Extremes to detail The Jovian Concord update's various additions more thoroughly as its release draws nearer.