Ubisoft battles to remove leaked Assassin's Creed Valhalla gameplay
UPDATE: Another leak shows boss fight, map, more.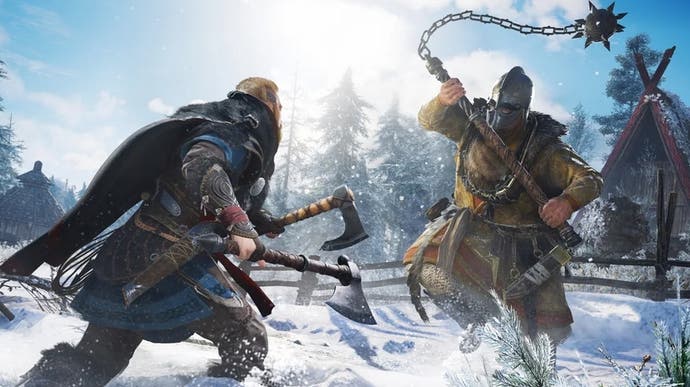 UPDATE 8/7/20: Another day, another Ubisoft leak. It's Assassin's Creed Valhalla again this time, with a second big gameplay excerpt from the same early East Anglian area. This leak, however, is of much higher quality.
In this latest slice of footage, we see female Eivor take on a boss character named Cordelia - a fight which appears to be a side-activity within the region. Speaking of which, there's also a glimpse at some of the game's sprawling map - hello Norwich and Thetford Forest!
---
ORIGINAL STORY 6/7/20: Half an hour of gameplay from the upcoming Assassin's Creed Valhalla has leaked online - and Ubisoft is trying to scrub it from the internet.
The footage is from a work-in-progress build of the game, and comes just days ahead of this Sunday's Ubisoft Forward livestream.
The mission shown features an assault on the real-life Burgh Castle in East Anglia, and gives us our first proper look at the female version of main character Eivor (not counting that special edition statue).
There's a bit of open-world gameplay that looks very similar to Assassin's Creed Odyssey, some chit-chat with allies, and then it's into Eivor's longboat for a quick journey to the castle. Eivor recites a poem as the boat sails, and then there's a quick bit of naval gameplay as the unarmed vessel dodges fire arrows.
Arriving at the castle, Eivor and her allies break through the walls and then through gates using a battering ram. After a lot of combat, the mission concludes with the option to either spare or save the castle's owner: Rued, a pretender to the East Anglian throne.
There's a look at the game's new sprawling skill tree, designed to mimic constellations in the night sky, and our first glimpse at Raven Sight, Eivor's ability to highlight objects and enemies, which is similar to the Eagle Vision of old.
Assassin's Creed fans will also note a button in the menu to exit the game's Animus, to wherever its modern day portion is set. Norfolk fans will note references to places such as Theotford and Northwic (Thetford and Norwich).
Versions of the footage are currently being taken down from YouTube, though it is still watchable via Streamable at the time of writing. (Part two of that video is here, and part three is here.)
Ubisoft has so far dropped two trailers for Assassin's Creed Valhalla, neither of which showed gameplay. It's a pity we're seeing the actual game in action for the first time this way.
Though the footage posted is quite low-resolution, there are various visual bugs present. Overall, it has received a mixed response from fans after the showy reveal trailers released officially so far.
Tune in on Sunday at 8pm UK time for Ubisoft to finally show more.