Two years after its announcement, Axiom Verge finally gets a physical release on Wii U
Following legal dispute with original publisher.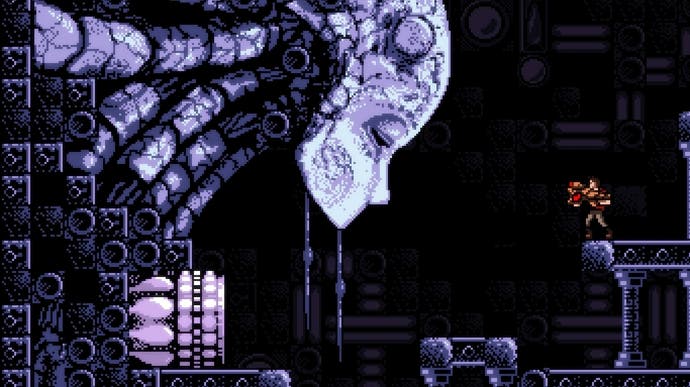 Limited Run Games has announced that it will be releasing a physical edition of Axiom Verge on Wii U at the end of the month, more than two and a half years after the game launched digitally on Nintendo's now defunct console.
As odd as that might sound, it helps to know that a Wii U physical edition of superb old-school Metroidvania, Axiom Verge, was originally unveiled all the way back in 2017. However, as documented in a lengthy article by GamesIndustry.biz, a dispute between Axiom Verge's retail publisher, BadLand Games, and Limited Run Games - a company that's made a name for itself publishing lavish physical editions of indie titles, and the team contracted to create the Wii U physical release - brought those plans to a crashing halt.
As part of a deal between the two companies, Limited Run paid BadLand $78,000 USD - for which it would receive, according to their contract, 6,000 copies of Axiom Verge on Wii U. These were to be delivered at least one week ahead of the physical edition's agreed autumn 2017 release date, but never arrived. Eventually, following extended radio silence from BadLand, Limited Run elected to begin legal proceedings in order to recoup its money.
Finally, last December, BadLand was ordered by the court to repay the full $78,000 USD plus $3,675.63 USD accrued interest and attorney's fees - money that Limited Run is yet to receive.
After several years of struggle (and an ongoing legal battle over a huge amount of lost money at the hands of BadLand Publishing) - Axiom Verge is coming physically to the Wii U on Friday, March 29th 10AM Eastern Time at https://t.co/rZI6STrUid. pic.twitter.com/Ajcg0eOy6W

— Limited Run Games (@LimitedRunGames) March 15, 2019
Remarkably though, despite these behind-the-scenes shenanigans, Limited Run has remained committed to ensuring fans eventually get the Axiom Verge Wii U physical release they were promised, even if the console isn't exactly a thriving hotbed of activity these days.
While the drama continued to unfold, Limited Run contacted Axiom Verge developer Thomas Happ and business guy Daniel Adelman (who hold the North American publishing rights to the game) to make the long-awaited physical edition a reality. That, of course, meant paying for a second lot of Wii U discs, meaning Limited Run has now, it says, spent over $120,000 USD on the enterprise. "We won't come anywhere close to breaking even on this project after the money our former partner took from us," it wrote in a tweet, "but we hope Wii U fans will appreciate the chance to own one of the best indie games physically for the platform!".
Incidentally, in a related development, Daniel Adelman has now tweeted that BadLand owes himself and Happ an estimated $200,000 USD.
Thanks to the work of Happ, Adelman, and Limited Run Games, fans will finally have the chance to purchase Axiom Verge's fancy Wii U physical edition from March 29th. It includes the game, a 32-page art book, an 18-track soundtrack CD and making-of documentary, plus a double-sided poster featuring the world map. Better dust off that GamePad and prepare for action, eh?