Treyarch's message to disgruntled Call of Duty: Black Ops 4 Zombies players
Crash override.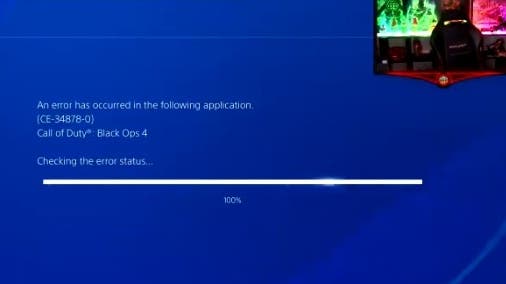 Call of Duty: Black Ops 4 has a Zombies mode, although you'd be forgiven for forgetting given the focus put on Blackout and traditional multiplayer.
Ever since Black Ops 4 came out in October, fans of the Zombies mode have expressed concern their portion of the three-pronged shooter had received the least amount of love as battle royale took centre stage.
This sentiment has slowly grown over the last few weeks as issues with Zombies mode have emerged. Chief among them are technical issues. This is particularly frustrating when players have spent hours working their way towards a boss only to suffer a crash or bug that prevents them from completing the game.
One of the most high-profile incidents of an unfortunately-timed Zombies mode crash occurred late in October when popular Twitch streamer Jaryd "Summit1g" Lazar suffered a fatal error just before fighting a final boss he'd spent two hours working his way towards. Warning, there are some swears in the clip below.
The video below shows more examples of unfortunately-timed Zombies crashes. The victim this time was popular YouTuber NoahJ456. Again, be warned: there's lots of NSFW shouting.
It doesn't help Zombies mode does not contribute towards progression through Black Ops 4's much-maligned Black Market contraband system. In short: Zombies players reckon their mode is the runt of the Black Ops 4 litter.
This week, Treyarch did two things to address concern: first, it released a big new update that tackled a number of Zombies-related crash and gameplay problems. Second, it released a statement on r/Blackops4 pledging to support Zombies mode, a reassurance to fans it will not be left behind.
Stability issues are the "number one priority" of the Zombies development team, Treyarch said.
"In our most recent major game update, we added new technology to help us track down the more complex Zombies crashes, and these tools now allow us to isolate the issues with the highest frequency.
"We're working through that list in priority order, and we will be releasing several fixes over the course of the next few updates. The complexity of variables in Zombies Easter Eggs presents the team with a unique set of challenges in reproducing, fixing, and thoroughly testing the fixes before release. As such, they take a little longer than our regular updates, and we appreciate your continued patience."
Treyarch then vowed to provide more detail in its updates so Zombies players know exactly what's been fixed.
"Rest assured that the team is working tirelessly to address remaining stability issues that the Zombies community is experiencing," Treyarch said.
And finally, a message of reassurance to the Zombies community:
"We respect and appreciate that our players invest so much time into Zombies, and we are committed to ensuring that this is the best Zombies gameplay experience in the series. Zombies would not be what it is today without an incredible community of fans, and we are wholly committed to doing everything we can to make Black Ops 4 the best and most-supported game that we've ever made."
Black Ops 4 launched strong with a meaty Zombies mode, but it's clear it has some serious issues. While the Blackout and multiplayer modes are enjoying the limelight right now, there are no doubt millions of people who just play Zombies mode, so it's good to see Treyarch come out and vow to keep players in the loop about ongoing support. The proof of the pudding is in the eating, of course. Hopefully those crash issues can be ironed out soon - for the sake of controllers across the world.