Titanfall wows Outside Xbox at Gamescom 2013
Plus Battlefield 4, Saints Row 4.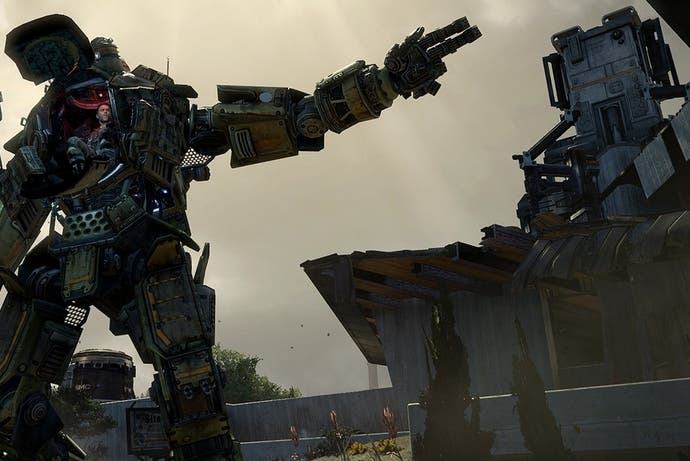 Welcome to another video rundown of the goings-on at Outside Xbox. This week we have decamped to Germany for Gamescom, the videogame megaconvention. It's the best place in the world right now to see upcoming games, so that's what we are doing. That and not eating any fruit or vegetables.
Titanfall is my game of the show. If I had to describe Respawn's mechs vs humans shooter in one word, it would be "exciting". If I had to describe it in five words, they would be "oh my god, giant robots". We played Titanfall here at Gamescom and found it to be tremendous, exhilarating fun. See the video below for giddy reactions from Jane and I.
Battlefield 4, meanwhile, is drawing four-hour queues on the show floor, where DICE is showing off the just-revealed Paracel Storm multiplayer map: a collection of small islands in a turbulent sea, with towering waves whipped up by the dynamic weather and vehicle types out the wazoo. There are jet skis, quad bikes and helicopters to commandeer, for instance, to close the distance between you and your objective. See all three in our Battlefield 4 gameplay video, in which we play the new Obliteration mode and only occasionally get perforated by snipers.
Finally, for a break from Gamescom glut, here's Show of the Week, in which we get to grips with Saints Row 4. If you played Saints Row the Third, you'd be forgiven for wondering how Volition could possibly make it any more over the top. The answer? Add superpowers. Also, stage a full-scale alien invasion. Also, make you the president of the United States of America. No concerns that Saints Row is about to go all serious on us, then.
For these, plus the eight offbeat multiplayer modes Batman: Arkham Origins needs to beat, join us at outsidexbox.com.