This is how Rambo: The Video Game looks
Your worst nightmare.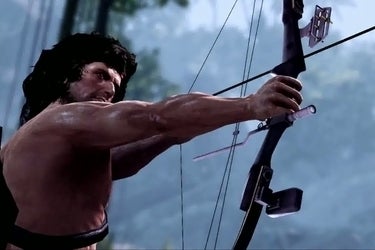 There's a new trailer for Rambo: The Video Game, an officially-licensed tie-in due early next year on PC, PlayStation 3 and Xbox 360.
The work of little-known Polish developer Teyon, Rambo will follow the story of Sly Stallone film series and re-create sections from First Blood, First Blood Part 2 and Rambo 3.
How well it will do so is still up for debate - the game will include the original film voice-tracks, but why do the character models like they are bobbleheads?
Fittingly, there are vats of blood and bodies exploding in showers of crimson, but at one point we're pretty sure people just explode even when no one's shooting.
"Rambo will be a triple-A title on PS3, Xbox 360 and PC and will capture the gritty atmosphere and full-on action which made the Rambo movies so successful," publisher Reef Entertainment promised upon the game's 2011 announcement.
Take a look a the new trailer below.