Microsoft and PlayerUnknown dance around the thorny issue of Battlegrounds console exclusivity
A mixed level two bag.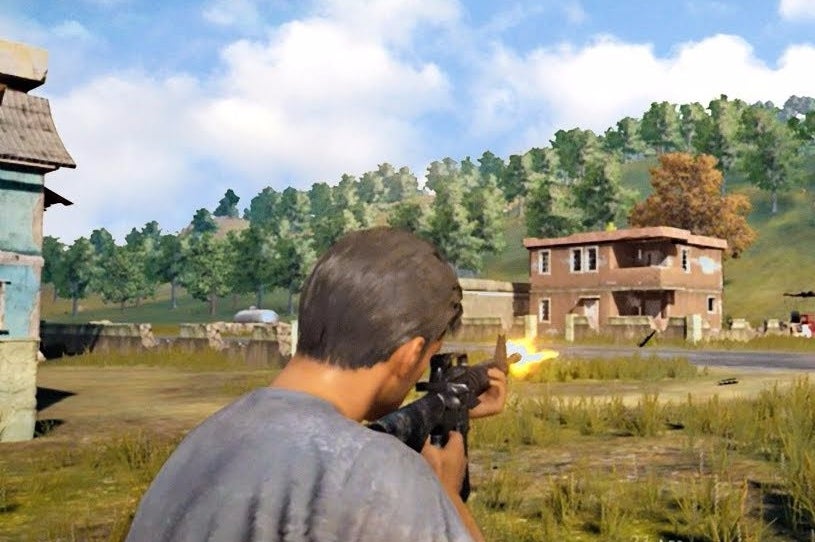 Gamescom 2017 is drawing to a close. Games have been played, the hangovers have started and the cosplayers are shifting into their formal mortal selves. It's been an interesting week for Europe's largest gaming event, so it's no surprise the world's hottest developer, Brendan "PlayerUnknown" Greene, was there dropping teasers on what's happening with PlayerUnknown's Battlegrounds - and he sure dropped a bomb.
During a conversation with Xbox at Gamescom, Brendan Greene announced a partnership between PlayerUnknown's Battlegrounds' developer Bluehole and Microsoft, who will publish the Xbox One version of the game. The Xbox One version, it turns out, is a console launch exclusive. But what, exactly, does this mean?
In his official statement on the Xbox website, Chang Han Kim, Bluehole's vice president and the executive producer of Battlegrounds, revealed the thinking behind the partnership.
"By partnering with Microsoft, our team believes that we will be able to accelerate console development, while maintaining quality across all platforms, as well as giving us access to vast sales, marketing and publishing resources that will help us reach new fans to welcome to the PlayerUnknown's Battlegrounds universe," wrote Kim.
This announcement raised the question of whether Battlegrounds will be a genuine Xbox One exclusive, or a timed-exclusive. If the latter is the case, we'll no doubt see a PlayStation 4 version in the future. But Bluehole, Greene and Microsoft spent a lot of Gamescom dancing around the issue.
In his big Xbox Gamescom interview, Eurogamer's Tom Phillips pressed Mike Ybarra, corporate vice president of Microsoft's gaming division across Xbox and PC, on whether the game is an Xbox One exclusive.
"We're publishing it on Xbox and it's a console launch exclusive," said Ybarra. "For anything else - we don't like to answer on behalf of developers, so you'd have to ask Bluehole. I've got a large portion of my team working with them to optimise it and their [Bluehole] focus is entirely on the PC and Xbox, period, to get that done."
When Tom pushed on whether "console launch exclusive" means "timed exclusive", Ybarra wouldn't budge, stating: "It's up to Bluehole. We're not the developer."
Even Sammie Kang, the lead community manager for PlayerUnknown's Battlegrounds, refused to give anything away. Check out this exchange between Sammie and the community on Twitter, which is frustratingly vague:
Yes. This partnership is about allowing our dev team to solely focus on Xbox & PC development and bring PUBG to Xbox players faster.

— Sammie Kang (@sammiekaang) August 20, 2017
At Gamescom, Eurogamer's Ian Higton asked the man himself, Brendan "PlayerUnknown" Greene, about whether the exclusivity deal will stop Battlegrounds coming to PS4 but, once again, he only spoke about the game's present situation - not its future. (You can catch the rest of Ian's interview next week.)
"No, just at the moment we just don't have any bandwidth to work on any other version," said Greene. "That's why we did the publishing deal with Microsoft, because the console port for Xbox was being done by Anticto in Spain, which is basically three or four guys. They're hiring more now but now we have Microsoft's support... we just want to focus on the Xbox and Windows versions."
Here's the thing: no-one has offered a definitive "no" to a PS4 release. That's telling.
The whole situation echoes what happened with Rise of the Tomb Raider. In August 2014, coincidentally at Gamescom, Square Enix and Microsoft announced Rise of the Tomb Raider would launch "holiday 2015, exclusively on Xbox" and Microsoft would publish the game. Tomb Raider fans went into a tailspin believing the game would only be available on Xbox, as the statement suggested, and accused Square Enix and developer Crystal Dynamics of selling out.
The problem here was the wording of the various PR statements. It insinuated the game would only launch on Xbox. Eurogamer interviewed Xbox boss Phil Spencer a few days later and he confirmed the deal was a timed-exclusive. Rise of the Tomb Raider on PS4 launched almost a year after it's Xbox rivals.
What is similar in most of these statements and interviews is the use of the phrase "console launch exclusive". Clearly, the team behind PlayerUnknown's Battlegrounds has learnt from the mistakes of the Tomb Raider situation, and has chosen its words carefully. The thing is, nobody's fooled. In a post-Rise of the Tomb Raider world, most are wise to this kind of PR talk. And most believe PlayerUnknown's Battlegrounds will launch on PS4 after Microsoft's timed exclusivity deal ends.
The ridiculous part of all this is neither Microsoft, Bluehole or even PlayerUnknown can admit it on the record.