The Overwatch Christmas event begins next week
Crate expectations.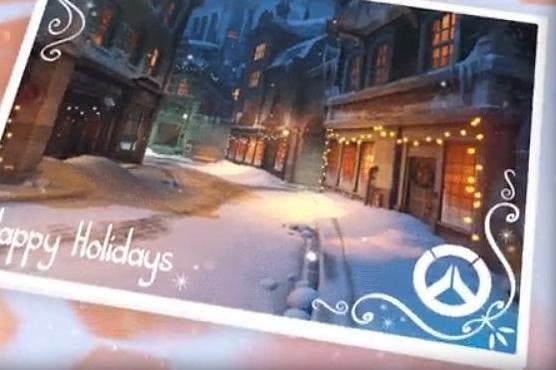 The Overwatch Christmas festivities have a start date: Tuesday, 13th December.
The Overwatch Twitter account shared an animated Christmas card with a picture of a Dickensian King's Row on the front and the words, "It's the most wonderful time of the year and we hope you join us for some holiday cheer," and the date, on the inside.
Beyond a strong hint that King's Row will be turned into a scene from A Christmas Carol, or thereabouts, no clues about the Christmas contents were given.
Naturally the Christmas Overwatch event will bring themed loot boxes - perhaps wrapped presents? - with character skins, sprays, emotes, intros and voice lines as other seasonal events have before it. Question is, which characters are in line for a fancy Legendary costume? Who is going to be dressed as Santa? My money's on Torbjorn but will there be only one? Isn't it about time Winston featured, and Symmetra? I wonder how strong the Dickensian theme will be...
Previous seasonal events have also introduced bespoke game modes, so the expectation is the Christmas event will too. Will there be be more co-operative campaign-like fighting as in Dr. Junkenstein's Revenge, or something else? With Arcade mode there are now multiple possibilities for Blizzard to explore.
The only solid evidence we have is the datamined Christmas Overwatch theme music. Jaunty little fella isn't it?
There's been a flurry of Overwatch activity recently, including the testing of new three-stage Control Point map Oasis, the significant alterations to Symmetra, the start of Competitive Play Season Three and of course the arrival of Sombra and Arcade mode.